Tartar Sauce
Tartar Sauce: what can you say about it? I actually am a big fan of tartar sauce, but it's a taste that I've acquired over time. I didn't grow up eating much fish, so I didn't grow up around tartar either. And much like the food it accompanies, tartar sauce is wonderful– when it's done well. I prefer home made, of course, which is exactly what this recipe is! And this recipe is really delicious! And very easy! It's perfectly balanced in flavor– and it's just the right amount of creamy.
Favorite Fish
What's your favorite fish? Does it depend on the cooking method? If it's something in batter, I prefer halibut. But I love me some salmon on the grill on under a broiler. What about you? I mean, I guess it doesn't matter too much. Anything would pair perfectly with this tartar sauce.
We served ours with Beer Battered Halibut, which you should also check out! Beside halibut, it would be lovely with cod, catfish, talapia, mahi mahi, sea bass, salmon, or any other fish!
In addition to our Beer Battered Halibut, try this recipe: Crispy Pan Seared Salmon Fillets!
Enjoy!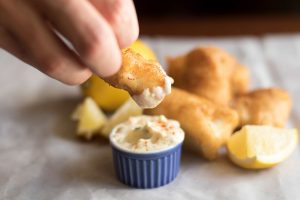 Tarter Sauce
Making home made sauces eliminates necessary and potentially harmful preservatives but also creates flavor control for the home user
Photos courtesy of Stanford Investment Systems All Rights Reserved
Tartar Sauce
Course: Sides, Sauces
Ingredients
2 cups mayonnaise

1 tsp mustard powder

juice from 1/2 lemon

2 TBL sweet pickle relish

1/2 tsp fresh ground black pepper

1/2 tsp paprika

1 tsp salt

1/4 fresh minced onion

1 tsp horse radish
Directions
Combine all ingredients in a mixing bowl and stir until thoroughly mixed.
Keep chilled until serving.
Perfect dipping sauce for halibut, cod, catfish, talapia, mahi mahi, sea bass or salmon.