Halibut, My Favorite Fish
Because I grew up in a landlocked state, I wasn't familiar with the pleasures of fresh fish around all the time. But I lived in Seattle for a couple of years, and there is no shortage of seafood up there. So when a friend took me to a local place — called Spuds– I wasn't sure what to expect. It was hardly bigger than a shack, and it was on the shore of Lake Washington. I thought, "I don't even know if I like fish and chips!" My friend recommended that I get the halibut. It was more expensive than the cod, but he said it was worth it. And he was right! My life was forever changed, and halibut is one of my favorite things in the world. This recipe, Beer Battered Halibut, is so easy and delicious that it's sure to become one of your favorites too!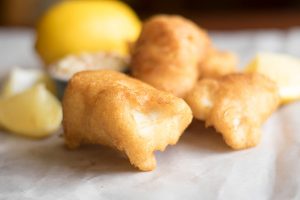 Beer Batter
One of the great things about this recipe is its simple batter. It's literally beer and pancake mix. Really, it fries up so nicely, and gives a wonderful, flavorful crunch. It's a shortcut that you'll be glad to know about. As for the beer itself, I'll let others argue about the best brand to use. In fact, here's an article entitled The 6 Best Beers for the Perfect Beer Batter. Now that you've got that, you can have all sorts of opinions about your favorite beer to use.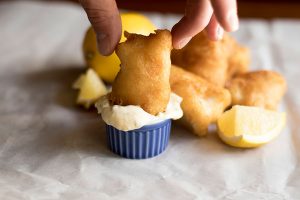 Fish and Chips Fixin's
When I was little, I would eat those nasty frozen fish sticks (I know, I was a kid) with ketchup. But as I've grown older and been introduced to the more delicious things in life, I've grown to love tartar sauce. Especially homemade tartar; the stuff in the little packets is just okay. Seriously, give me fresh tartar and some lemons to squeeze over my Beer Battered Halibut, and I'm in heaven.
You can't have Fish and Chips without the chips! Check out our scrumptious Baked Garlic Parmesan Fries. They'll pair great with the halibut. Enjoy!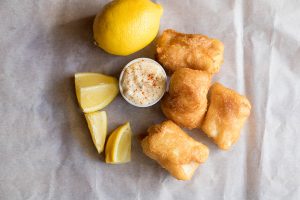 Beer Battered Halibut
Notes
Make sure fish is at room temperature before frying.
Cover no more than 50% of the oil surface with fish when frying. This ensures that the oil temperature doesn't drop too rapidly. If the oil is under temperature, it will soak into your batter.
*Photos courtesy of Standford Investment Systems, all rights reserved
Beer Battered Halibut
Course: Lunch, Dinner
Ingredients
1 lb halibut

1 cup pancake mix

1 cup beer

1 cup apple cider vinegar

1 qt water

2 T cornstarch

1 qt. avocado oil

Lemons, for garnish
Directions
Mix vinegar and water. Immerse halibut, and let stand until the fish is at room temperature
Heat oil to 350°
Drain halibut and pat dry. Cut into 2 inch strips
Mix beer and pancake mix
Dredge fish in batter.
Fry in oil until golden brown
Place fish on paper towel
Serve warm with tartar sauce and lemons