Baked Fries
Fries: it's as American as Apple Pie and Independence Day. It's also one of the best uses of potatoes! The problem with fries is just that; they're fried. When things are fried, they become bad for you because the food (in this case, the potatoes) absorbs a lot of the oil while they cook. And we know that can lead to higher cholesterol and blood pressure. So instead of frying the potatoes, we bake them!
Garlic Butter Fries
When you're making fries, you've got to use Chef Shamy Parmesan Basil Garlic Butter. The butter gives them a lovely, light garlic flavor, and also helps them to crisp up in the oven. Adding extra Parmesan cheese gives just the right amount of cheesy-ness. And Parmesan is such a salty, sharp cheese that it really helps boost the flavor.
I suppose there are two ways to do it: you could paint the potato slices with garlic butter, or you could toss the potatoes and butter together in a bowl. We did the latter, mostly because we wanted to ensure that the whole fry was coated. Also, that way, we didn't have to flip them halfway through baking. It worked well, but if you're a painter, go ahead and do it that way.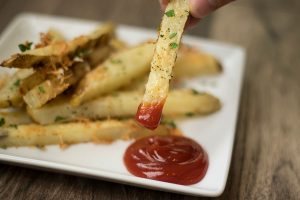 Dipping Sauces
Are you a ketchup person? Do you dip in mustard? Or BBQ sauce? I'm writing this in Utah, which is birthplace of Fry Sauce. Have you heard of it? It's basically ketchup and mayonnaise mixed together. I'll be honest, I don't love Fry Sauce (which is blasphemous to say here) — but I didn't grow up here, so I wasn't introduced to it until college. But many people swear by it.
Anyway, here's some fun dipping sauces to try if you're in the mood; fry sauce included!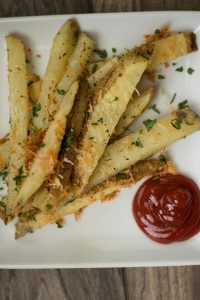 Baked Garlic Parmesan Fries
Course: Sides
Ingredients
2 large Russet Potatoes

3/4 cup shredded Parmesan cheese

Salt and Pepper

Parsley, for garnish
Directions
Preheat oven to 400°
Cut your potatoes into 4 slices, then cut each slice into four fries
In a bowl, toss the potatoes and melted Chef Shamy Garlic Butter (for more garlic flavor, add more butter)
Lay out fries on a sheet pan, making sure that they don't overlap
Sprinkle Parmesan cheese evenly over your potatoes
Bake at 400° for 25-30 minutes, or until the fries are golden brown and starting to get crispy
Sprinkle with salt and pepper
Garnish with parsley
Serve with your preferred dipping sauce