Zucchini Noodles: Zoodles
Zucchini season is upon us! That includes many different kinds of squash as well: yellow, butternut, etc. There are a million things that you can do with zucchini. You can make bread, you can make muffins, or you can toss it on the grill. One of my favorite things to do with zucchini is substitute it for pasta. Zucchini noodles (or zoodles!) are a lovely low-carb option if you're craving Italian but not craving the carbs. Our simple recipe just calls for a simple saute in Chef Shamy Garlic Butter, but you can throw some marinara or Alfredo sauce on top.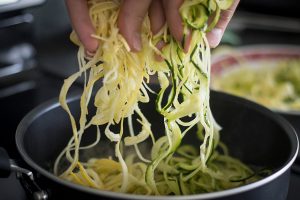 Making Zucchini Noodles
Making the zoodles themselves are the most difficult part of this recipe. But thanks to the wonders of Amazon, there are many options to help you make Zucchini Noodles! You can use a vegetable spiralizer. The great thing about the spiralizer is you can use it with many different vegetables. You can buy one with a twisting blade, or a handheld one. Apparently, there is even an attachment you can buy for your KitchenAid Mixer.
Or, you can do what I did, and buy them, pre-zooodled, in the produce section of my local grocery store. In my experience, they tend to sell out quick, so make sure you go in the morning!
Zucchini Noodles: Crunchy, not Raw
A few notes about cooking. You can just use zucchini noodles if you want. I used half zucchini, half yellow squash, because I like both. And they had both at the store. It's important to remember that zucchini noodles cook quickly! There's no reason to leave them in the pan more than a couple of minutes. Zucchini is best when it still has a little bite to it, a little texture. We don't want our zoodles to be raw, but we don't want them soggy and mushy either. And believe me, the difference between the two only the matter of a minute or so!
If you just can't get enough zucchini, try our delicious Parmesan Garlic Zucchini Appetizer!
ZOODLES! | Garlic Zucchini Noodles
Course: Lunch, Dinner
Directions
Turn your zucchini and squash into noodles!
In a warm pan, melt the Chef Shamy Garlic Butter
Add your zucchini and squash noodles
Toss them in the butter
Saute for 3 minutes
Salt and pepper to taste