Pumpkin Season
It's that time of year again. The time when the weather gets colder and the baked goods become plentiful. Its the time when finally, your grocery store has a good selection of pumpkin… only for it to be always sold out. At least that's what happened to me when I went to my local market. No pumpkin on the shelves. Luckily for me, I had stocked up gradually over the year– I love pumpkin! And it's not fall unless you have some kind of baked pumpkin something in the house. Look no further than our Cinnamon Spiced Pumpkin Scones. It's the best thing I've made in a while.
While these pumpkin scones are definitely a fall treat, you can enjoy them year round. I always get a sneaky craving for pumpkin in the late spring, and these would hit the spot. They're the perfect amount of pumpkin-y flavor that you look for.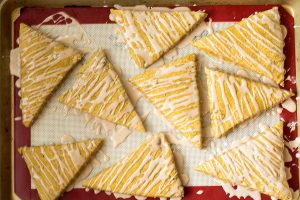 Making Pumpkin Great
Okay, so pumpkin is great, but here's some straight talk. Pumpkin– just pumpkin by itself– is bland. And boring. It tastes of nothing, and it certainly isn't sweet. So that where we get the Cinnamon Spiced part. Pumpkin is usually combined with cinnamon, nutmeg, cloves, ginger, and even allspice. And make no mistake, we've got all those in both the scone and the spiced glaze.
But the real kicker here is Chef Shamy Cinnamon Brown Sugar Honey Butter. It adds the right amount of cinnamon, and a light sweetness from both the honey and the brown sugar. And you can rest easy, because there is no other added sugar to the scone itself! Plus, you can put as much or as little of the spiced glaze on top as you'd like, so you really can control the sugar on this one.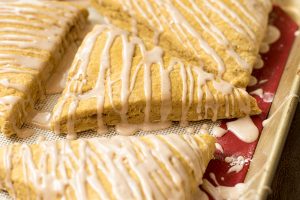 Musings on Scones
Scones can be sweet or savory– they're usually sweet. They're soft on the inside, crunchy on the outside. And you can have them for any meal. Breakfast, lunch, dinner, second breakfast, elevensies, snack time, tea time, all the time! And you'll love these so much, you'll want them all the time!
Here's a start if you're in the mood for Savory Scones!
Cinnamon Spiced Pumpkin Scones
Course: Snacks, Sweets, Dessert
Ingredients
SCONES:

2 and 1/3 cups all-purpose flour

1 tsp baking powder

1/2 tsp ground cloves

1/2 tsp ground ginger

1/4 tsp salt

1/2 tsp ground nutmeg

1/2 tsp baking soda

1/2 cup pumpkin puree

3 T milk

1 large egg

2 tsp vanilla extract

SPICED GLAZE:

1 cup powdered sugar

1/4 tsp cinnamon

1/4 tsp ground cloves

1/4 tsp ground ginger

1/4 tsp nutmeg

2 T milk
Directions
Preheat oven to 400° F
In a bowl, combine flour, baking powder, baking soda, cloves, ginger, salt, and nutmeg. Add chunks of cold Cinnamon Honey Butter, and work it in with your fingers until it resembles coarse crumbs.
In another bowl, mix pumpkin puree, milk, egg, and vanilla. Pour over dry ingredients and combine with a spatula or wooden spoon
Work into a dough, then roll out on a lightly floured surface until about an inch thick. Use a pizza cutter to make triangles out of the dough, re-rolling if needed
Place scones on a baking sheet and bake at 400° for 10-12 minutes, or until done.
To make the glaze, mix powdered sugar with spices and milk. Whisk until smooth, then set aside.
Once the scones have cooled for 10 minutes, spread glaze over top of them.
Eat immediately.