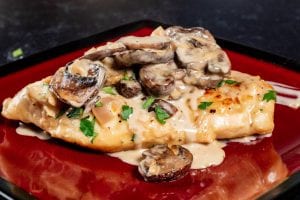 Easy Chicken Marsala
Course: Dinner
Ingredients
1½ lbs boneless skinless chicken breast cutlets

⅓ cup AP flour

½ tsp salt

¼ tsp pepper

1 T olive oil

8 oz sliced mushrooms

1 shallot, finely chopped

⅔ cup chicken broth

⅔ cup dry Marsala wine

⅔ cup heavy cream

Salt and pepper, to taste

Fresh parsley, to garnish
Directions
In a shallow bowl, whisk together flour with salt and pepper. Dredge each chicken cutlet in the flour, shaking off excess.
Heat olive oil in large skillet. Cook chicken, 3-4 minutes each side, or until chicken reaches 165° F internally. (You may have to do this in batches). Remove chicken from the pan and set aside.
Melt Garlic Butter in the same pan over medium heat. Add shallots and mushrooms and cook about 5-7 minutes, until onions are soft and mushrooms are starting to caramelize.
Add chicken broth, Marsala, and heavy cream and stir to combine. Make sure to scrap off any bits of the bottom of the pan — they'll add lots of flavor to your sauce.
Cook 10-15 minutes until sauce is reduced by half and starting to thicken. Season with salt and pepper to taste, then add chicken back to the pan.
Cook another 2-3 minutes until chicken is warmed through, then serve.