Coffee Cake
Classic Coffee Cake is a British dessert– a light sponge flavored with coffee, meant to be eaten while drinking coffee. (No wonder it's called coffee cake!)
In America, however, we've turned it into a delicious cinnamon breakfast cake. And I'm not complaining! It's one of my favorite things, and this recipe is absolutely delicious!
This cake is soft and packed with cinnamon flavor! The key ingredient is Chef Shamy Cinnamon Brown Sugar Honey Butter.
Using Cinnamon Butter adds a great cinnamon sweetness that makes this cake even more delicious!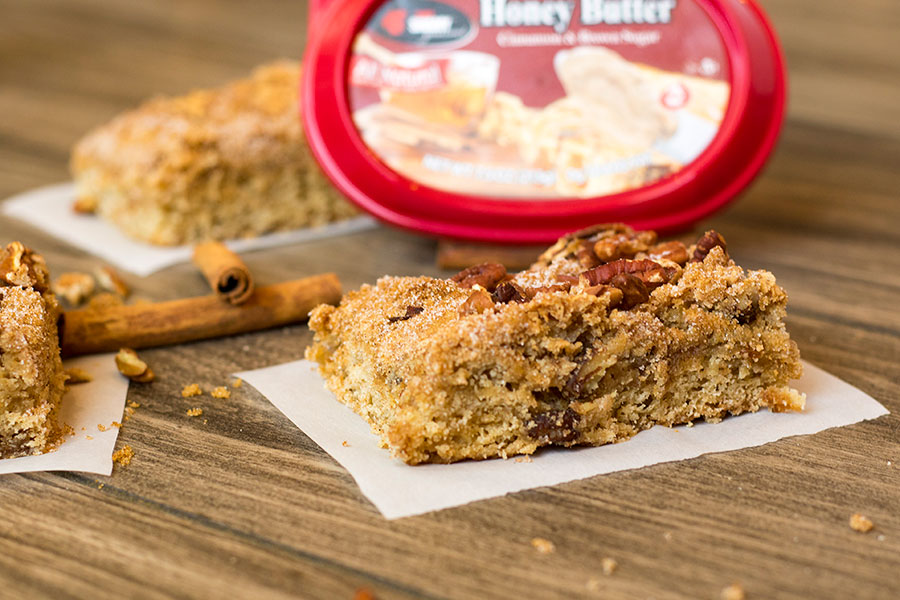 Cinnamon and Pecans
There's nothing better than cinnamon and pecans together! I love to have some good textural contrast, especially when eating something sweet.
Adding chopped pecans to this cake lends a great nutty crunch! The crunch of the nuts kind of cuts through the rich cake. If you don't like pecans, or are allergic, you can leave them out, and the cake will still be fantastic!
Sour Cream Cakes
This cake not only has butter, it calls for sour cream! Using sour cream in a cake makes it really moist! Everything together– the Cinnamon Honey Butter, the nuts, and the super soft cake– comes together to create an amazing breakfast!
Enjoy!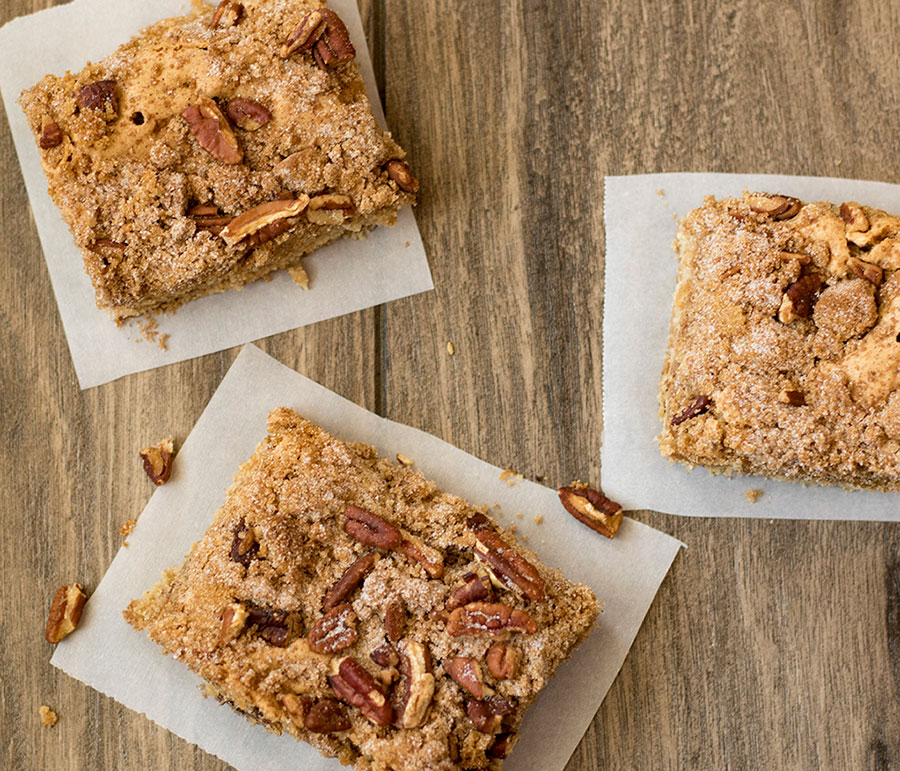 Cinnamon Coffee Cake
Course: Dessert, Sweets
Ingredients
Cake:

1 cup (8 oz) Chef Shamy Cinnamon Brown Sugar Honey Butter

1 ½ cups sugar

2 eggs

1 ½ tsp vanilla

1 cup sour cream

2 cups flour

1 tsp baking powder

1 tsp baking soda

Topping:

½ cup brown sugar

¼ cup sugar

1 tsp. cinnamon

1 cup chopped pecans
Directions
Preheat oven to 350° F.
In a large bowl, cream together Cinnamon Butter and sugars. Beat in eggs, vanilla, and sour cream.
In a separate bowl, mix together flour, baking powder and baking soda. Add the dry ingredients to the wet ingredients and mix, until well combined.
To make the topping, mix together sugars, cinnamon, and pecans.
Butter a 9×13 pan. Spread half of the cake mixture, then top with half of the topping. Spread the rest of the cake mixture, then sprinkle the rest of the topping.
Bake at 350° for 40-45 minutes, or until a toothpick comes out clean.
Allow to cool, then serve.