Leftovers
Thanksgiving is different this year. Smaller gatherings, smaller meals — but one thing is consistent, no matter the year: leftovers! No matter how much you try to avoid it, there's always food left over. Sometimes it's lots of turkey but no mashed potatoes; sometimes it's a ton of stuffing, but only dark meat. So we've got a Thanksgiving Pizza recipe that's uses everything you've got and tastes delicious!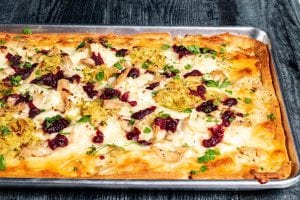 Thanksgiving Pizza
We went down the easy path and bought a pre-made pizza crust. But feel free to make one from scratch if you have a great recipe and enjoy doing it. The main thing is to use our Fresh Churned Garlic Butter to make that crust tasty.
Instead of traditional pizza sauce, use gravy. You don't need too much– even if you're a sauce or gravy lover. Too much makes it hard for the crust to bake.
Cheese is a must for any pizza, and a Thanksgiving pizza is no exception. We used mozzarella, the pizza classic, but use whatever you have on hand that you think will be good.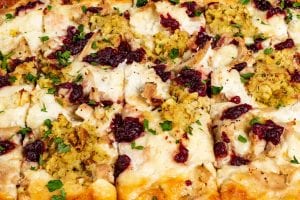 Toppings
The toppings for this pizza are whatever is left from your holiday dinner. Turkey is a must, of course. Then put dollops of mashed potatoes and stuffing, and some cranberry sauce for depth of flavor.
Got veggies left? Throw 'em on! More gravy on top? Sure! Have fun and experiment with your leftovers– enjoy!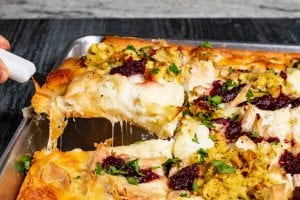 Leftover Thanksgiving Pizza
Course: Lunch, Dinner
Ingredients
1 pizza crust

3 T Chef Shamy Garlic Butter, melted

½ cup turkey gravy

2 cups shredded mozzarella cheese

1 cup turkey, diced

⅓ cup mashed potatoes

½ cup stuffing

½ cup cranberry sauce

Fresh chopped parsley, to garnish
Directions
Preheat oven to 450° F.
Place pizza crust on a greased baking sheet. Brush liberally with Garlic Butter.
Spread turkey gravy over the crust, then cover with cheese.
Add toppings: turkey, dollops of mashed potatoes and stuffing, and cranberry sauce.
Bake at 450° F for 15-18 minutes, or until crust is fully baked and cheese is melty and starting to brown.
Garnish with parsley and serve.