Shortbread
Shortbread is a biscuit, simply made of butter, sugar, and flour. It's crisp, buttery, and delicious! Shortbread cookies are just shortbread dough cut into smaller pieces, usually rectangles or squares. I love shortbread! It's one of my favorite things, partly because I love the taste, but also because it's SO easy to make. Very few ingredients, and very little time and effort to whip up the dough. There's even time for a nap in the middle while the dough is chilling! Shortbread cookies are a holiday favorite, and our Strawberry Shortbread Cookies will become your new favorite!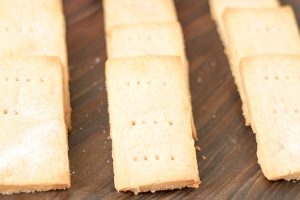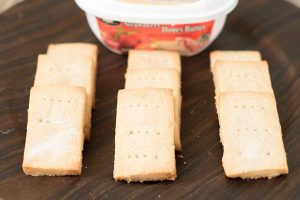 Strawberry Sour Cream?
Strawberry and sour cream is kind of an amazing combination of flavors. But in a cookie? Hear me out.
The strawberry flavor comes from Chef Shamy Strawberry Honey Butter. It's one of the best: fruity and sweet. And it's a perfect match for shortbread cookies, which already use a lot of butter. But because the Strawberry Honey is whipped, the proportions get a little off. The recipe needs a little more fat to bring the dough together– otherwise it's crumbly and falls apart. Sour cream is the answer. It adds a little richness, and the necessary fat to bring everything together into an amazing, soft dough.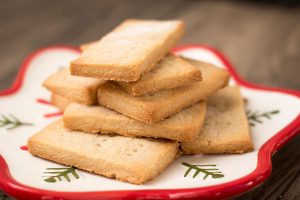 3 Tips
The baking time can differ from oven to oven. Make sure to keep an eye on it. The biscuits are done when the edges are starting to turn golden. These are meant to be crisp, but not burnt!
Don't overwork the dough. You can choose to bring it together in a mixer, or to mix everything with your fingers. Either way you choose, don't overwork the dough, or it will result in flaky, tough cookies.
Don't skip chilling the dough. It's a crucial step to ensure buttery cookies. Chilling the dough allows the butter to harden. Soft butter will run out of the dough in the oven, and you won't get the great buttery flavor!
Love Shortbread Cookies? Try their sister: Easy Homemade Strawberry Shortcake!
Enjoy!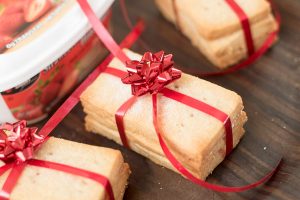 Strawberry Sour Cream Shortbread Cookies
Course: Dessert, Snacks
Directions
Preheat oven to 350° F.
In a mixer, cream butter, sugar, and sour cream together until just combined. Add vanilla, then sift in flour.
Mix until the mixture comes together in a dough. You may have to work it together with your hands.
Roll dough into a ball, then flatten to make a disc. Wrap in plastic wrap then chill for 30 minutes.
After the dough has chilled, roll it out to about ½ inch thick. Use a cutter or a knife to cut retangle cookies.
Arrange the cookies on a baking sheet, and poke with a fork 2-3 times each cookie. Sprinkle with extra sugar to give a nice shiny finish.
Bake at 350° for 20 minutes, or until edge are just starting to be golden.
Let cool, then serve.