No Bake Cookies
When it's hot outside and your air conditioner is struggling to keep up, it can be hard to turn the oven on. That's why these No Bake Cookies are the best! All the flavor of a regular baked cookies, but no baking!
This recipe avoids all the pitfalls of cookie dough that would make it unsafe to eat. There are no eggs, and instead of flour, we use oats. But they're still bursting with flavor!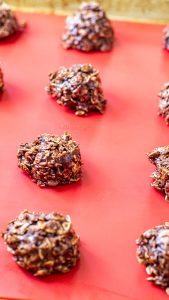 Flavors
There are three main flavors here. The first comes from our Fresh Churned Vanilla Bean Honey Butter. It contains real vanilla beans and has a delicious flavor. The whipped butter also adds a great creamy texture to the wet ingredients (more on that later).
The other two flavors are peanut butter and chocolate. They go together so well, and the vanilla lifts it up.
Let's talk about the process.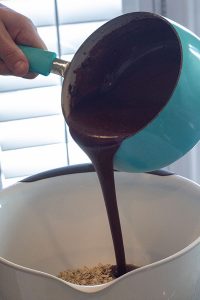 How to Make (Not Bake)
Melt the Vanilla Butter in a sauce pan, and add some sugar and cocoa. Add in some milk, then bring it to a boil. Keep it at a boil for about 60 seconds, then take it off the heat. Stir in some creamy peanut butter.
Pour this mixture over some oats. Stir to combine, then drop tablespoons on a baking sheet.
You can choose to leave the cookies like that, or you can flatten them into more of a cookie shape. Dip the bottom of a glass in water, and coat it in sugar, then press the dough down gently.
Keep your house cool, and enjoy!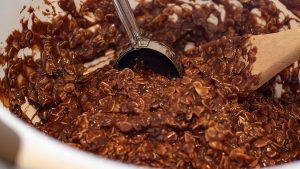 Vanilla Bean No Bake Cookies
Course: Snacks
Ingredients
2 cups sugar

¼ cup cocoa powder

½ cup milk

½ cup creamy peanut butter

3 cups old fashioned oats
Directions
In a saucepan, melt Vanilla Butter over medium heat. Add sugar and cocoa powder, and stir to combine. Then add the milk and combine completely. Bring to a boil, and boil for 60 seconds.
Remove from the heat and stir in peanut butter.
Pour mixture over the oats, and stir completely to combine.
Drop cookie dough onto a greased baking sheet. Use a sugar coated bottom of a glass to flatten into the shape of a cookie. Allow cookies to cool.
Serve.