Crispy Potatoes
These Crispy Garlic Parmesan Potatoes are absolutely delicious! And they couldn't be easier to make!
I'll be honest, I'm often underwhelmed by potatoes. It's the taste, the texture. I don't know. I wasn't expecting these to be amazing. But they sure are.
I like when potatoes are crispy. Sometimes it's hard to get potatoes crispy without frying them, but frying them can be so unhealthy. Adding Parmesan cheese really helps these potatoes to get to that nice crispy place that we like.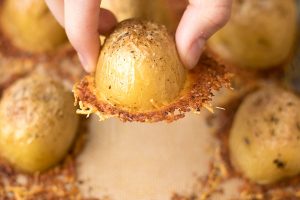 3 Ingredients
The great thing about these Crispy Garlic Parmesan Potatoes is how easy they are to make. The recipe only calls for 3 ingredients!
Let's talk about them.
Potatoes: I like using Yukon potatoes (also know as gold or yellow potatoes) because they have a soft skin and the bake well. They're also a medium sized potato, which is perfect for this recipe.
Chef Shamy Garlic Butter: what more can I say about it? It's got great flavor, and a fantastic garlic punch. Don't be shy with the Garlic Butter here. Dip it and brush more on top!
Parmesan: hands down, one of the best cheeses. It's salty and sharp. It crisps up beautifully in the oven. Yum.
Enjoy!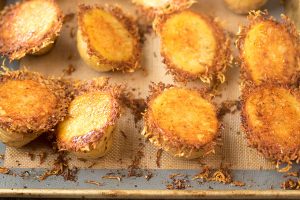 Crispy Garlic Parmesan Potatoes
Crispy Garlic Parmesan Potatoes
Course: Sides
Directions
Preheat oven to 400° F
Put Parmesan cheese in a shallow bowl.
In another shallow bowl, melt Garlic Butter.
Dip cut-sides of potatoes into Garlic Butter, then press into Parmesan cheese.
Place cheese side down on a greased baking sheet.
Brush any leftover Garlic Butter over top of the potatoes, and season generously with salt and pepper. (They're potatoes, they need it!)
Bake at 400° F for 30-40 minutes, or until potatoes are tender.
Serve immediately