Pasta
Pasta is a favorite food for many people. It's versatile, easy to make, and easy to flavor. But a lot of people also feel that pasta is unhealthy. Here at Chef Shamy, we really enjoy coming up with healthy recipes using pasta, and this is the best one yet. Introducing: Healthy Zucchini Noodle Pasta!
It's so easy to make, and with only a few ingredients, it's easy on the wallet as well as the waistline. Let's talk our way through the recipe.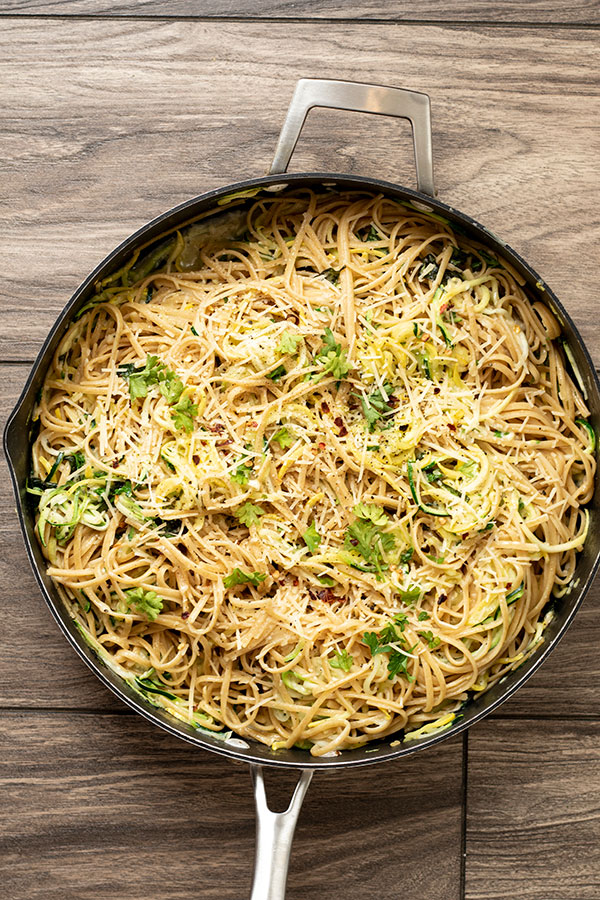 Zucchini Noodles
Start with some boiling water. Make sure to salt it and then put your fettuccine in. I love fettuccine noodles because you can twirl them, and they hold a sauce better, since they're a little thicker than spaghetti.
Let your pasta cook. We want al dente, which means the noodles still have some bite to them.
Meanwhile, melt some of our Fresh Churned Garlic Butter   and add zucchini noodles.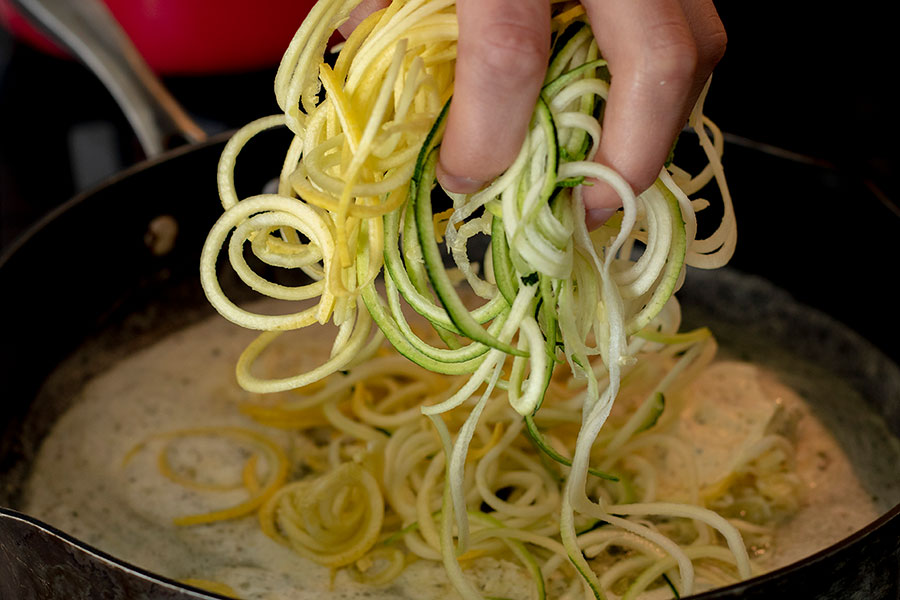 Full disclosure: we used store-bought zucchini noodles. The package had both zucchini and yellow squash, which I thought would look good in our photos. If you want to get a spiralizer out and make your own veggie noodles, feel free. But we took the easy way out.
Let the zucchini cook for a few minutes, then add then cooked pasta in. Ideally, you should have about the same amount of noodles as you do veggies. It creates a nice ratio.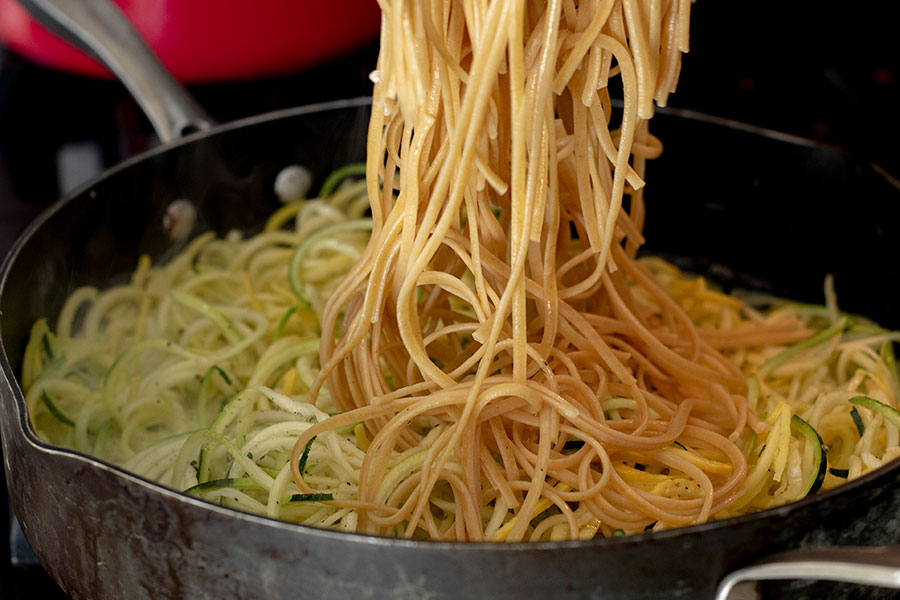 YUMMY.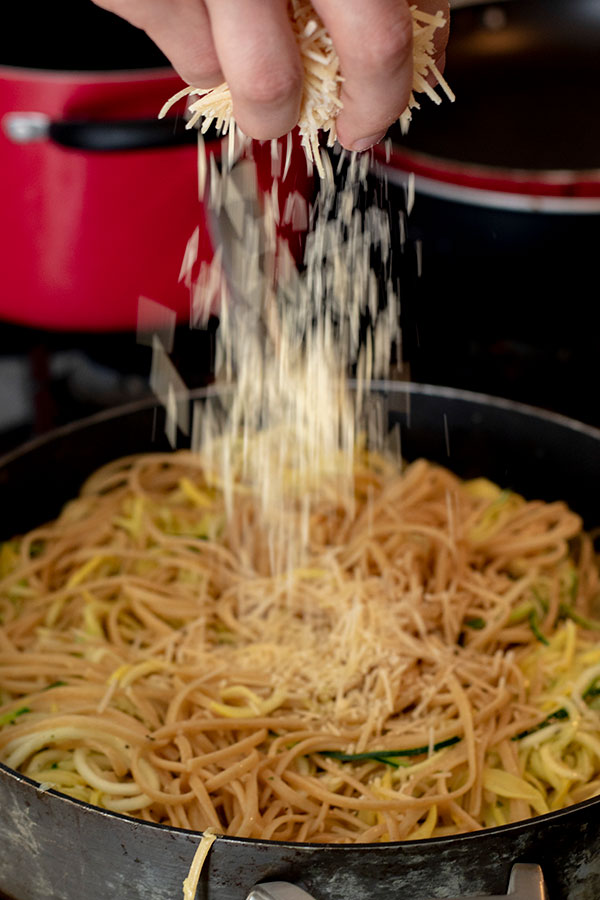 The Rest of the Recipe
Add some freshly shredded Parmesan cheese, some fresh herbs (parsley and basil), a pinch of red pepper flakes, and toss everything together. At this point, you'll want to taste it and adjust your salt and pepper accordingly. Then you're done!
It's that easy! Healthy and delicious!
Enjoy!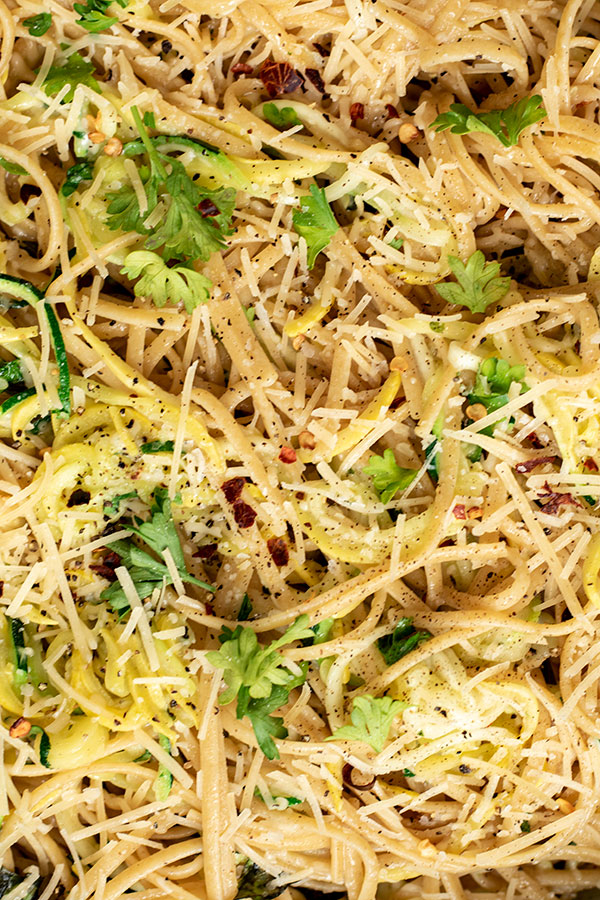 Healthy Zucchini Noodle Pasta
Course: Dinner
Ingredients
1 lb whole-wheat fettuccine

5-6 T Chef Shamy Garlic Butter

1 lb zucchini noodles

½ cup grated Parmesan cheese

¼ cup fresh chopped Parsley

½ cup fresh chopped basil

½ tsp red pepper flakes

Salt and pepper, to taste
Directions
Boil the pasta according to package directions.
Meanwhile, melt Garlic Butter in a large skillet or pan. Add zucchini noodles and toss to coat. Cook for 2-3 minutes, then add drained fettuccine noodles.
Add Parmesan cheese, parsley, basil, and red pepper flakes. Season with salt and pepper to taste. Toss to combine.
Serve immediately, sprinkling extra Parmesan cheese on top if desired.