I love fruit. Even more, for some odd reason I love dried fruit. (Except bananas- those have to be real.) Apple chips and dried strawberries are among my favorite. That delectable crunch with sweet flavor and juicy aroma is so much better than any candy.
Kinds of Apples
In the United States we don't have many diverse fruits that are imported, and even fewer are the natural fruits that grow here. There are 2,500 different kinds of Apples grown in the United States alone. However, this pales in comparison to the 7,500 kinds grown throughout the world.
I myself have several favorite kinds of apples. Among them are Pink Lady, Honeycrisp, and Fuji. Once in a while I'll get a hankering for some Granny smith
Some other sweet apples include Ginger Gold, McIntosh, Liberty, Gala (not as sweet), Golden Delicious (less sweet), Jonagold, Braeburn, and Baldwin.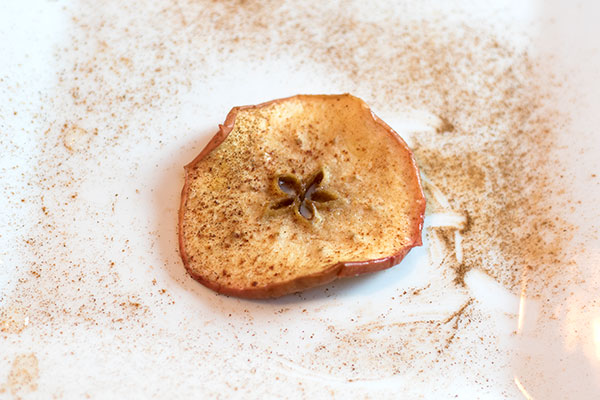 An Apple a Day
We all know the old adage, "An apple a day keeps the doctor away," but is this really true? The short answer: yes. Apples really are very healthy. (Although making them Apple Chips, does cause a small loss of nutrients.) While studies are mixed and the consensus isn't 100% sold on the adage, in some studies, apples have been proven to contain certain anti-oxidants that strengthen brain cells and fight off cancer. Also, those who eat apples every day are typically leading healthier lifestyles simply because of the substitution of fruit for refined sugars.
Also, apples are a convenient, delicious go-to snack when you're in a hurry. They are typically sweet and roughly 85% water, so they have the ability to fill an urge without too many calories.
Making the Apple Chips
The first time I made these I made the following mistakes:
My slices weren't consistent

Some were too thick and didn't cook as fast
Some were too thin and cooked too fast

I put too much butter on them

The honey in the Honey Butter caused the chips to burn- a light layer will get you the flavor you need

I only made one apple

These are delicious. One apple won't be enough. Try doing multiple pans at once
Healthy Snack: Cinnamon Apple Chips
Course: snacks
Directions
Preheat oven to 215°
With a mandolin and guard, slice apples about 1/8″ thin and then dry the apples as best as you can with a paper towel
Place these on a cookie sheet lined with a silicone baking mat then baste lightly with room temperature Chef Shamy Honey Butter
Put in oven and cook for 30 minutes. Remove and flip the apples and baste the other side, then return to oven and cook 30 more minutes
Remove and let cool (they should harden as they cool)
Place in plastic bags to preserve freshness
Notes
You may need to heat the Honey Butter a tiny bit for ease of basting. Also, oven times will vary depending on the thickness of the slices.