Holiday Dinner
The holiday season can be a little crazy in more ways than one. When it comes to food, there are two or three (or possibly more) BIG dinners in the span of 4 weeks: Thanksgiving, Christmas, Christmas Eve, and maybe even a holiday party! And it's important to be prepared. Part of that preparation is having an arsenal of easy, tasty holiday dishes. And turkey is one of the standard go-to recipes. Turkey is a tradition at Thanksgiving, but many families do another turkey for Christmas. So let Chef Shamy help you make it simple to turn out a fantastic turkey. Introducing Garlic Herb Butter Roasted Turkey!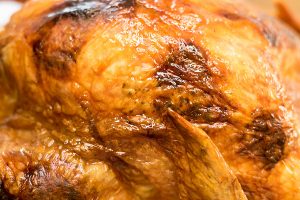 Garlic Herb Butter
Chef Shamy Garlic Herb Saute Butter is a twist on the typical Garlic Butter. Instead of Parmesan cheese and basil, we've added herbs! The Garlic Herb Saute Butter is great because it does 100% of the seasoning for you. You won't even need to add salt or pepper. It's a great way to flavor your turkey while keeping things moist. And it's easy as pie– simply take some room temperature Garlic Herb Butter and rub it all over the turkey underneath the skin. Roast the turkey in the oven like normal and you've got a winner for your holiday dinner!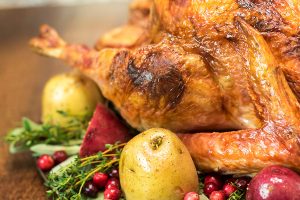 Turkey Tips
Some general information and tips about making roasted turkey:
The internal temperature of the turkey should reach 165° F. Once the turkey has reached that temperature, it's done. If you stuff your turkey, it's important to check the stuffing to make sure it also reaches the same temperature.
When rubbing the butter on the turkey, make sure the turkey is close to room temperature. Otherwise, the cold turkey will harden the butter, and it won't spread evenly.
The rule is 13-15 minutes in the oven per pound.
Preheat the oven to 450°, then lower the temperature to 350° when you put the turkey in.
Enjoy!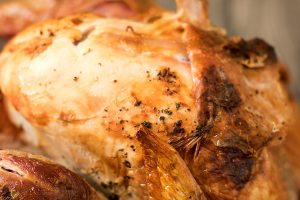 Garlic Herb Butter Roasted Turkey
Course: Dinner
Ingredients
Turkey, 11-15 lbs, thawed
Directions
Preheat oven to 450° F.
Using your fingers, carefully rub Garlic Herb Butter in between the skin and the the meat of the turkey. Try to spread evenly.
Lower temperature of oven to 350° and roast turkey, covered, until internal temperature reaches 150° F.
Uncover and continue to cook until internal temperature reaches 165° F.
Allow to cool for 30-45 minutes before slicing and serving.
Serve with all of your favorite side dishes for a holiday feast!