Chef Shamy Garlic and Herb Sauté Butter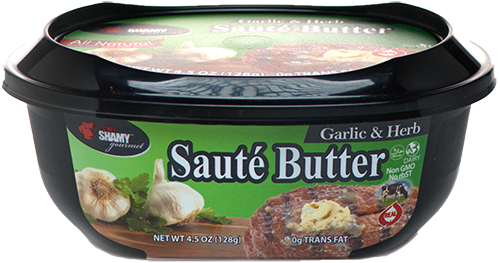 Our savory, earthy Garlic Herb Sauté Butter is guaranteed to enhance flavor in any dish. Use Chef Shamy cooking butter to bring out the flavor of fish or chicken meals. Try melting over vegetables or potatoes for instant seasoning or brush on steaks for the perfect combination of flavor. Our Garlic Herb Sauté Butter, like all our products is made with 100% real butter, all natural and no oils or preservatives. All our sauté butters have all the spices you need to cook your meal, no need to add any other flavor or spices!
Recipe Ideas
Whenever you need to add a little extra flavor to your dinner, reach for Chef Shamy Gourmet Garlic Herb Sauté Butter. Our delicious blend of real butter without preservatives or oils makes this a great guilt free base for all types of savory dishes. Try it with some of our recipes below.
Garlic Mashed Potatoes
Garlic Herb Fettuccine
Garlic Butter Sautéed Asparagus
Sautéed Tilapia with Garlic Herb Butter Sauce
Recent Recipes
Pizza Zucchini Pizza Bites are delicious, bite sized, veggie pizzas! They're a great after-school snack or fun family dinner! I've never met anyone who doesn't like pizza. But many people don't eat it as much as they want to because of all the carbs. So save yourself and your waist line by making your pizza …
Read More »
Granola Bars No Bake Granola Bars are the best snack for a busy afternoon of extra-curricular activities! Not only are they delicious, they're good for you too! They'll provide energy for all the things you and your kids have going on. There are a lot of healthy ingredients in this recipe, but the most notable …
Read More »