Zucchini Rice
Zucchini season lasts for the whole summer, and into early fall! So there's still time to get some delicious zucchini into your kitchen! However, you can usually find zucchini year round in your grocery store, so this recipe will be for all seasons! My mom used to shred zucchini during the summer and freeze it. It freezes well and can be used whenever you need some. She usually put it in zucchini bread, but this Cheesy Garlic Zucchini Rice could put it to good use too!
Garlic and Zucchini
Zucchini pairs with many things– one of the things it goes best with is garlic. And so Chef Shamy Parmesan Basil Garlic Butter is a natural fit! I truly love this Garlic Butter– it has the perfect about of garlic and a lovely splash of Parmesan cheese! The basil compliments as well, and when it's made with real butter and doesn't have any extra oils or fillers, you keep this Zucchini Rice feeling fresh.
Let's Talk Cheese
If you've spent any time over the last few months reading recipes here, you know that one of my many obsessions bordering on a problem is CHEESE. And I'm not really interested in fixing this problem. Cheese is one of my favorite things. And I'm not picky either, all cheese is delicious. This Garlic Zucchini Rice calls for cheddar, and a lot of it. Cheddar was a good choice– it tasted really great. But you can mix this up however you want. If you want to do half cheddar, half pepperjack, that would be an adventure. Or try all Parmesan! Wow! That would be a twist!
Just make sure it's cheesy!!
Try our Garlic Zucchini Noodles!
And here's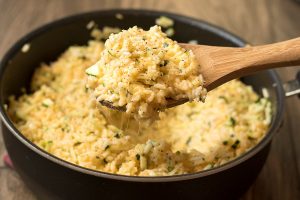 One Pot Cheesy Garlic Zucchini Rice
Course: Sides
Ingredients
2 cups vegetable broth

1 cup rice

2 zucchini, shredded

1 cup cheddar cheese

Salt and pepper, to taste
Directions
Melt Garlic Butter in a large saucepan
Stir in vegetable broth and rice. Bring to a boil, then reduce the heat to simmer and cover, cooking 15-20 minutes until rice is tender
Stir in zucchini and cheese
Salt and pepper to taste
Let cheese melt, then serve immediately