Acorn Squash
Sausage and Apple Stuffed Acorn Squash is healthy, seasonal, comfort food at its best! You'll be making this all year long.
There are a lot of varieties of winter squash, and many of them you probably haven't heard of– I hadn't. But some of them I know: butternut squash, pumpkin, spaghetti squash, and of course, acorn squash. Of all of these, acorn squash might be my favorite, because of its lovely nutty flavor.
Acorn squash is named for its acorn shape, and they readily available during the fall and winter because they're so easily grown. They can be baked, steamed, or sauteed, but stuffed is the best way!
When you scoop out the seeds, there's a perfect little dent just waiting to be filled!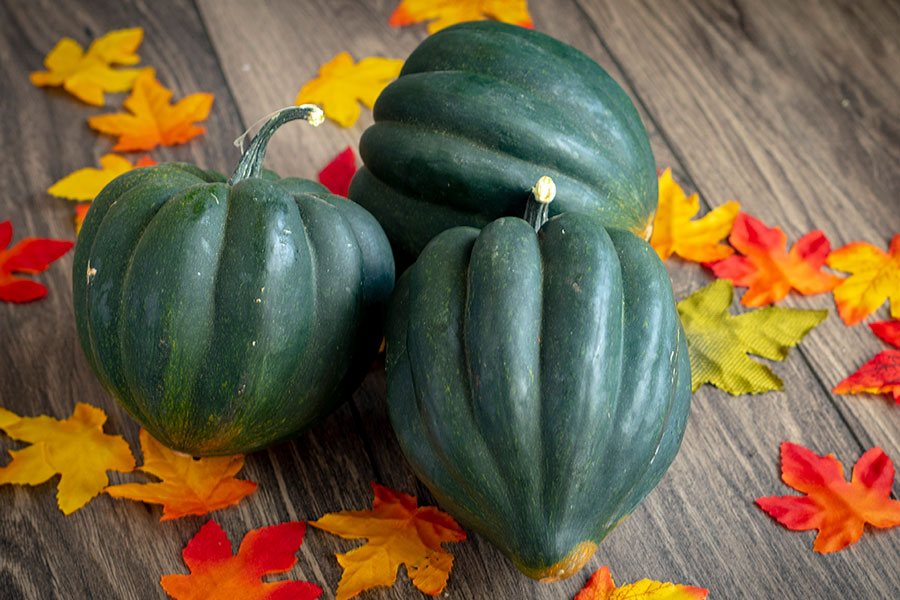 Stuffing
The stuffing is pretty simple, and absolutely delicious. It's made from things that are in season during the fall and winter months: apples, celery, onions.
Start by browning some pork sausage.
Drain the fat and add some Chef Shamy Garlic Butter. The butter adds a great seasoning and garlic flavor to the dish.
Add some apples, celery, and onion, and sage– all classic fall flavors.
Beef up the stuffing with some Panko breadcrumbs and some Parmesan cheese. The Parmesan lends a great salty tang to balance everything out perfectly. Top with a little extra Parm and you're ready to bake!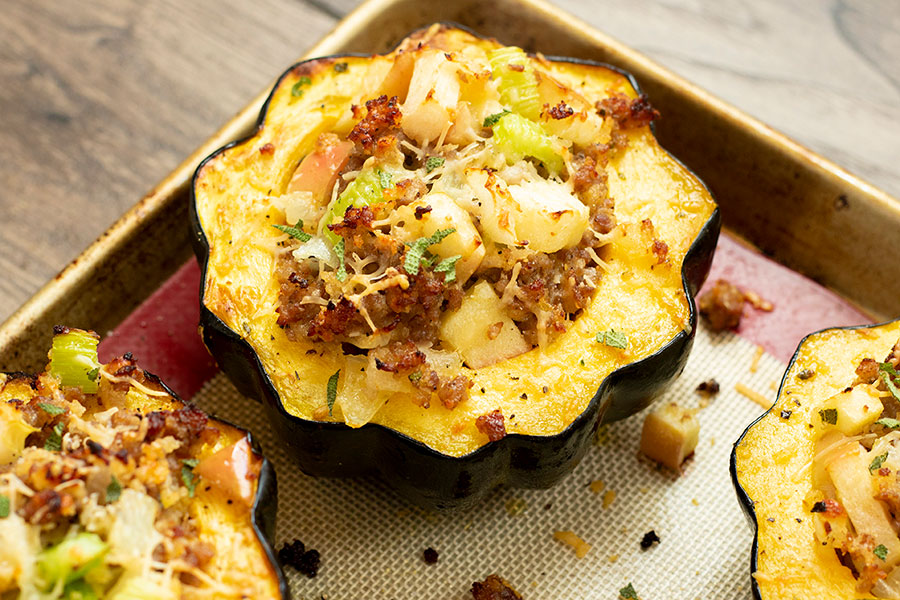 Baking
You've actually baked the acorn squash already. Brush it with some Garlic Butter and bake it until it's tender. Then once you add the stuffing, throw it back in the oven to warm everything through and melt the cheese.
This Stuffed Acorn Squash is a perfect dish for a busy weeknight or quick lunch. Or mix it up and throw it together for your Thanksgiving dinner!
Enjoy!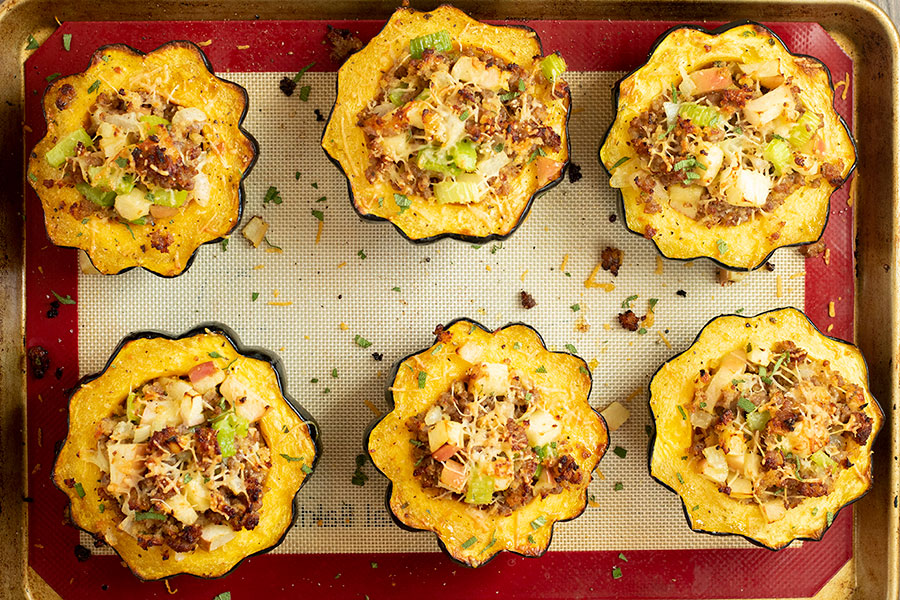 Sausage and Apple Stuffed Acorn Squash
Course: Dinner
Ingredients
For the squash:

3 acorn squash, halved

For the stuffing:

1 lb ground pork sausage

1 onion, diced

2 celery stalks, chopped

2 apples, diced

½ tsp sage

1 cup Panko bread crumbs

1 cup Parmesan cheese, divided

Salt and pepper, to taste.
Directions
Preheat oven to 400°F.
Cut the acorn squash in half, then cut off the end so the squash will lie flat with the inside facing up. Use a spoon to scoop out the seeds.
Brush generously with Garlic Butter, then bake for 30-40 minutes, or until the squash is tender.
Meanwhile, make the stuffing. Brown the sausage in a skillet over medium high heat. Drain.
Add Garlic Butter, onion, and celery. Cook until onion is soft. Add apples, and sage and stir to combine. Cook for 2 minutes.
Mix in breadcrumbs and 3/4 cup of Parmesan cheese. Stir until totally combined. Add salt and pepper to taste.
Divide the stuffing mixture evenly between the 6 acorn squash indentations. Top with additional Parmesan cheese.
Bake at 400° for 15-20 minutes.
Serve immediately.