Leftover Mashed Potatoes
Every time I make mashed potatoes, I have a bunch left. It's hard to know what to do with them, especially if they aren't complimented by your other leftovers. The great news is: there are PLENTY of easy and delicious ideas for mashed potatoes. One of my favorites is potato pancakes. They're simple to make and a definite crowd-pleaser! Our Parmesan Garlic Leftover Potato Pancakes are easy, cheesy, and cooked in garlic butter! You'll find yourself making mashed potatoes just so you can make these!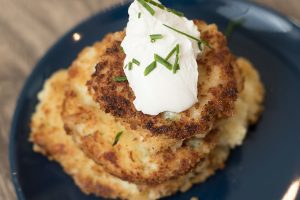 Parmesan Garlic
Nothing beats Chef Shamy Parmesan Basil Garlic Butter! It's tasty and good for you! It's the main ingredient in this recipe that provides such amazing flavor! Once you've made your potato pancakes, melt some Garlic Butter in a skillet, and fry the pancakes in the butter. But don't let the butter burn! And if you're making a big batch, you'll need to keep adding butter to your skillet, because the potato pancakes will soak it up. But that's never a bad thing. You can't have too much Garlic Butter!
Here's another couple ideas for leftover mashed potatoes:
Cheesy Leftover Mashed Potato Bites!
Enjoy and have #AButterHoliday with Chef Shamy Garlic Butter!
Parmesan Garlic Leftover Potato Pancakes
Course: Sides
Ingredients
4 cups mashed potatoes

2 cups shredded mozzarella cheese

1 large egg

¼ cup flour

3 T fresh chives, chopped

½ cup Panko bread crumbs

1/2 cup Chef Shamy Parmesan Basil Garlic Butter, divided

Sour cream, for serving

Fresh chives, for garnish
Directions
In a large mixing bowl, combine mashed potatoes, mozzarella cheese, egg, flour, and chives. Use a potato masher to make sure everything is well combined.
Use your hands to shape the potato mix into patties, about 1/3 inch thick. Press each side into the Panko bread crumbs until coated.
In a skillet, melt a couple Tablespoons of Chef Shamy Garlic Butter, and place a couple patties in the skillet. Cook on medium heat until the breadcrumbs have crisped up. Then flip and repeat on the other side.
Repeat with the remaining patties. Add more Garlic Butter to the pan as needed, taking care to not let the butter burn.
Serve with a dollop of sour cream and some fresh chives.
Notes
Use up to 1/2 cup more flour if the mashed potatoes are really creamy. It will help the potato pancake hold together better!