Tomatoes
Making a tomato flatbread is one of the best ways to feature one of the most versatile fruits out there! Yes, we could have a whole conversation about how tomatoes are a fruit, but I'm sure you already know that. What's more important is that it's currently tomato season!
Even when they're not "in season," tomatoes are pretty easy to find in your grocery store. So while this recipe is extra good during the late summer, you can still make it year round!
Tomatoes come in so many different varieties, it's hard to know which to use in what recipe. Here, we recommend using cherry tomatoes, but feel free to use any kind. We used cherry because they were on sale at the store. Any variety will work, as long as you cut them to bite sized. Experiment and see which type of tomato you like the best!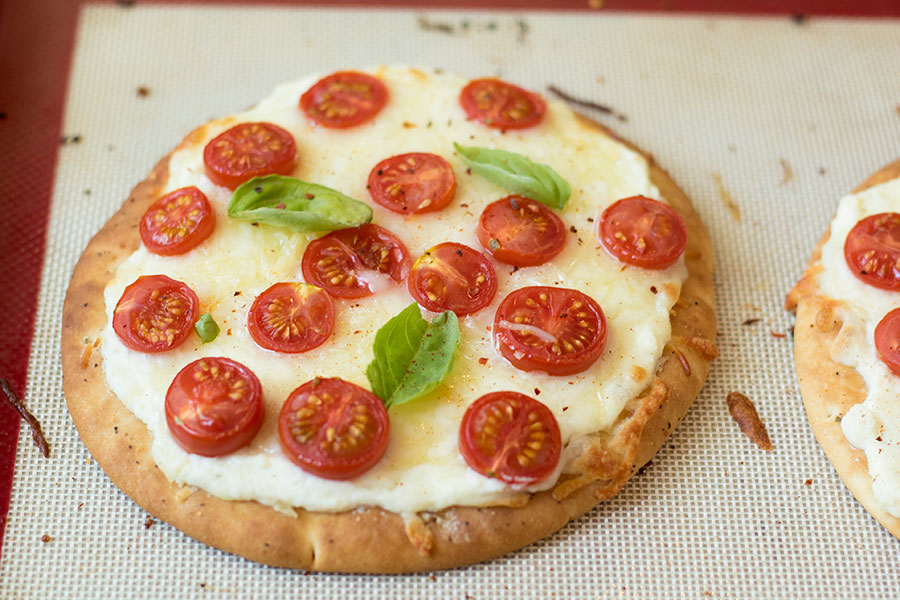 Flatbreads
What's the difference between a flatbread and a pizza? To be honest, I'm not actually sure.
After asking the internet and doing a lot of research, I found that no one really seems to know. Some say that flatbreads use a different dough that's flat and crispy. Others say the difference lies in the shape: flatbreads are rectangular, pizzas are round. There's an argument that it depends on what the toppings are. My personal definition is that pizzas have pizza sauce and flatbreads don't; but there are exceptions to that rule too, aren't there?
So who knows?
All I know is that this Garlic and Herb Tomato Flatbread is absolutely delicious!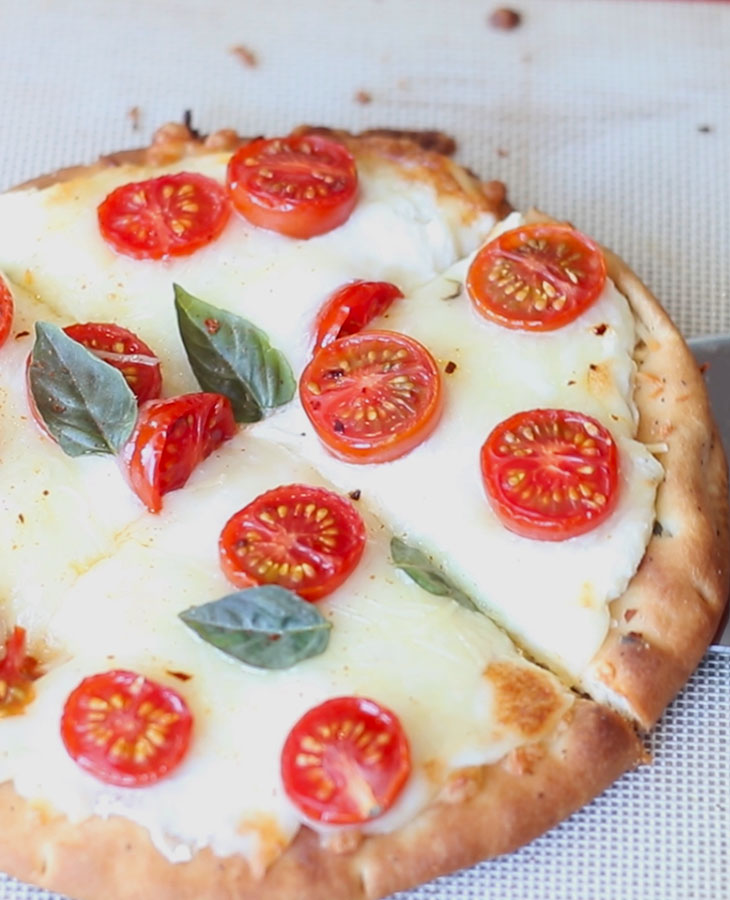 Easy to Make
They're really quite easy to make– let me take you through the process.
We used store bought flatbreads. You can use dough, or your own recipe. I liked the ones from the store because they were already baked. I found them in the bread aisle.
Spread some Chef Shamy Garlic Butter on top of the flatbread. Be generous with that stuff– it's good.
Add some seasoned ricotta cheese, and spread it to make a thin layer.
Then sprinkle some mozzarella  and Parmesan cheese on top. There's no such thing as too much cheese. I've said it before, and I'll say it again. There's no such thing as too much cheese!
Dot the top with some tomatoes– as many or as few as you want.
Throw it in the oven for a few minutes to get the cheese melty and the flatbread slightly toasted. You'll want your edges to be crisp!
Add some fresh basil to the top, then cut into slices and eat!
It couldn't be easier, and it couldn't be more delicious!
Enjoy!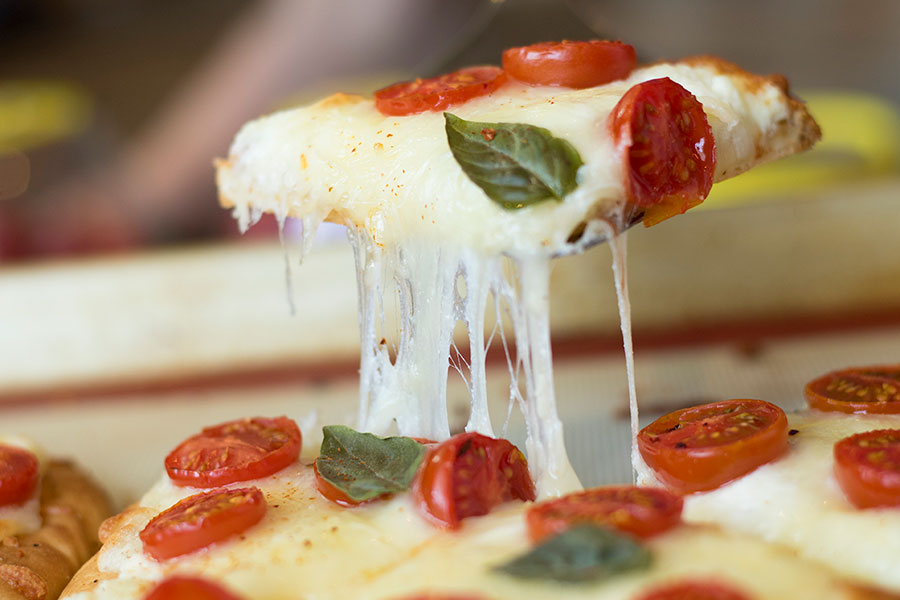 Garlic & Herb Tomato Flatbread
Course: Dinner
Ingredients
2 flatbreads

¾ cups ricotta cheese

Salt and pepper, to taste

1 cup shredded mozzarella cheese

¼ cup shredded Parmesan cheese

1 cup cherry tomatoes, halved (or 1 cup diced tomatoes)

8-10 fresh basil leaves

Red pepper flakes, to taste
Directions
Preheat oven to 350º F
Cover a baking sheet with foil or parchment paper. Lay flatbreads on tray
Brush with melted Garlic Butter, all the way to the edges
In a small bowl, mix ricotta cheese with salt and pepper, to taste. Divide the ricotta evenly between both flatbreads and spread evenly
Sprinkle mozzarella and Parmesan cheeses on top of the ricotta
Place tomatoes on top.
Bake at 350º for 5-10 minutes, or until cheese is melty and edges of the flatbreads are slightly browned and crisp
Remove from oven and garnish with fresh basil and red pepper flakes, if desired
Cut and serve immediately