Breakfast
The best meal of the day! And the most important! And arguably the most important breakfast of the year is on Christmas morning! Or any holiday, really, but Christmas is closest. Anyway. Christmas breakfast must be a special one; but it's also got to be easy, because no one wants to spend the morning in the kitchen. Lucky for us, Overnight Cinnamon French Toast Bake takes away the stress! Make it the night before, and bake it in the morning while presents are being opened!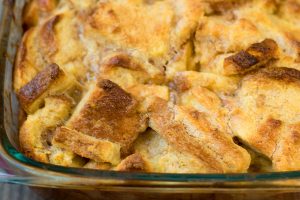 French Toast Bake
We've all had French Toast before, but what about a French Toast Bake? Have you had one before? There's a lot of ways to think about it: a sweet stuffing, a breakfast bread pudding, a french toast casserole.
It's simple. Cut up your slices of bread, cover them in an egg/cream/cinnamon butter mixture, and let it sit in the fridge overnight. The bread soaks up the delicious cinnamon flavor, and in the morning, stick it in the oven. Easy peasy!
The thing that makes this French Toast Bake special is Chef Shamy Cinnamon Brown Sugar Honey Butter. It's got the perfect sweet cinnamon flavor for French Toast! The flavor is unbelievable!
For another great holiday breakfast, try these Heavenly French Onion Hashbrowns!
Or this: Perfect Fluffy Scrambled Eggs!
Enjoy, and have a lovely holiday!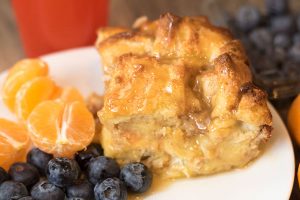 Overnight Cinnamon French Toast Bake
Course: Breakfast
Ingredients
15-20 slices sourdough bread, cubed

9 eggs

½ pint heavy cream
Directions
Preheat oven to 350° F.
Place the bread cubes in a greased baking dish. Make sure the bread comes to the top of the dish.
In a separate bowl, mix the eggs, Cinnamon Butter, and cream until combined. Pour over the bread. Lightly toss to make sure the bread is fully coated with the egg mixture.
Cover with cling film and refrigerate overnight, or about 8 hours.
Bake at 350° for 35-45 minutes, or until cooked in the middle, and a toothpick comes out clean.
Serve with more Cinnamon Butter, syrup, whipped cream, and fruit.