Breakfast at Its Best
Breakfast is the important meal of the day! You've got to eat at the beginning of the day in order to have a productive, energetic, and happy morning– and afternoon! But sadly, sometimes we either don't eat breakfast at all, or we eat something void of any nutritional value. Even things that are touted as healthy often aren't. For example, a muffin that has the same amount of sugar as a cupcake.
Sorry, let me step off my soap box for a moment to say that breakfast can be awesome, and the best meal of your day! These Heavenly French Onion Hash Browns are delicious, nutritious, and easy enough to make on even the busiest morning!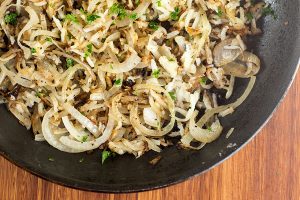 French Onion Potatoes
Can you think of a better combination than Chef Shamy French Onion Butter with Asiago Cheese and potatoes? I can't, which is why this recipe is such a knockout! The butter has the perfect flavor that adds to the potatoes and onion without making them greasy or overbearing. The hint of Asiago cheese really kicks things up a notch too! French Onion Butter has the added benefit of making sure that the potatoes are crispy. Nothing is worse than having hash browns that are soft and squishy. We want hash browns with a crunch, and butter really makes that happen!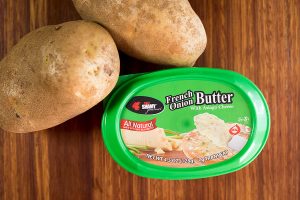 Heavenly French Onion Hash Browns
These French Onion Hash Browns are truly heavenly! You'll love them!
For some added breakfast ideas, try our Pancetta Frittata!
Or how about these healthy, no-sugar added Oatmeal Muffins!
Enjoy!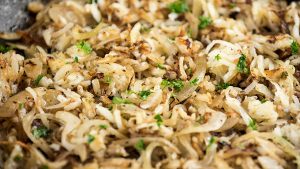 Heavenly French Onion Hash Browns
Course: Breakfast
Ingredients
3 lb red potatoes (washed)

1 large sweet yellow onion
Directions
Shred potatoes & onion.
Blanch shredded potato in boiling water for 3 minutes.
Strain off all water completely.
Melt 4 oz Chef Shamy Butter into a pan, then stir into potatoes and onions, coating all pieces.
Heat skillet to high. Sauté mix until brown and turn.
Brown again and serve.
Serve with your favorite omelet or scrambled eggs. Add Shredded cheddar cheese for an extra treat.