Butterscotch
Okay, so butterscotch is kind of a decadent flavor. It's sweet, sometimes too sweet, and makes me think of those hard candies Grandma always had in her purse. So how would it work in a cream pie? Does it really work in a creamy texture? YES IT DOES! This Cinnamon Butterscotch Cream Pie is amazing and decadent!
This is probably the easiest cream pie I've ever made, which makes the fact that it's so tasty even better! Butterscotch pudding is the main ingredient.
Can I admit how many times I've already misspelled Butterscotch and had to correct it so far? Like 100.
Anyway, pudding gives us the great flavor as well as the creaminess we desire. Mix that pudding with some whipped cream and you're good to go.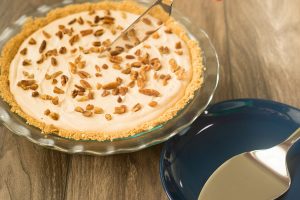 Cinnamon?
Cinnamon is an unexpected flavor to pair with butterscotch. But it works SO well! The cinnamon flavor comes from Chef Shamy Cinnamon Brown Sugar Honey Butter.
You're right, there's no butter in a cream pie, so we've used it to make the graham cracker crust! It adds a sweet, cinnamon flavor to the crust that compliments and enhances the butterscotch cream pie filling.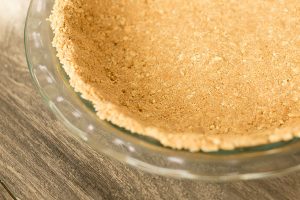 Graham Cracker Crust
A graham cracker crust can be a tricky thing, especially when you can easily buy one at the grocery store. But it's always worth it to make your own. Especially since you're using Cinnamon Honey Butter.
It's important to get the right consistency. Make sure there's enough butter to hold the crust together when you chill it, otherwise it will crumble like birdseed.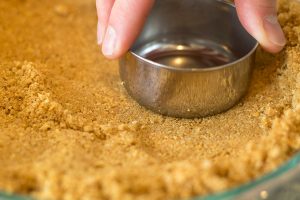 I used a measuring cup to press the crust into the pie pan. You can use whatever flat thing you want. But I recommend taking the time to make the crust really fit into the pan.
Most importantly, don't forget to leave yourself plenty of time to chill the pie before you serve it!
Enjoy!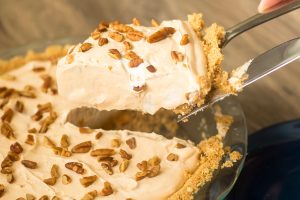 Cinnamon Butterscotch Cream Pie
Course: Dessert, Sweets
Directions
In a small bowl, mix together graham cracker crumbs, sugar, and Cinnamon Honey Butter with a fork. Pour into a 10 inch pie pan and use the back of a measuring cup to press into a crust.
Chill while you make the filling.
To make the filling, mix both boxes of butterscotch pudding with cold milk until thickened. Pour a thin layer into the bottom of the crust, then fold the rest into the cool whip.
Pour the cool whip mixture on top, then use a spatula to smooth it out to the edges. Top with chopped pecans.
Chill in the refrigerator for 4-5 hours, or overnight. Serve cold.