Cinnamon Swirl Bread
This Cinnamon Swirl Bread is so soft, so tasty, and so easy that it's almost not fair. It's the perfect way to use Chef Shamy Cinnamon Brown Sugar Honey Butter.
Bread can be intimidating to make from scratch. Bread is widely available in grocery stores and bakeries around the world– why make it?
Because the result is so good! And it's not really that hard to make. It's the patient baker wins the bread game, not the experienced baker.
The recipe is pretty straightforward, but homemade bread lives or dies on two things: the rise and the bake.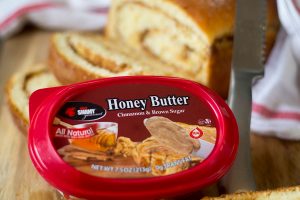 The Rise
Okay, without getting all science-y, lets talk about the rise.
Bread gets is rise from yeast. Yeast is a leavening agent which converts ferment-able sugars in the dough into carbon dioxide. The gas forms pockets or bubbles in the dough, causing the dough to expand.
So it's important to give the yeast enough time to rise. The things that retard the yeast are salt, sugar, butter, and milk. Guess what? This recipe calls for all of those things!
So it's extra important to be patient.
I've made this bread twice. I made it once in California, and once in Utah. The rising times varied greatly between the two places, because of the temperature of the air. So stick to this tried and true guideline: the dough needs to double in size. If you need to take a picture to remember and compare, do it!
If your dough is being extra slow, try putting it somewhere warmer. In Utah, I placed it next to a fireplace, just to give a little extra warm air.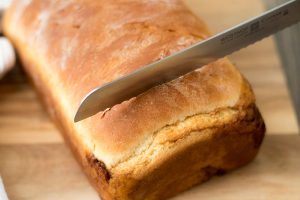 The Bake
The bake time is also important, because no one wants raw dough in the middle of their loaf. The crust needs to develop that nice brown color, what you would expect from bread.
And because there's so much butter in the middle, I always give my bread an extra 5-10 minutes in the oven just to be safe.
One of the difficulties with baking bread is you won't know for sure if the inside is baked until you slice into it. But there are a couple of ways to check.
Tapping on the bottom of the loaf is a fun way to check. If the loaf sounds hollow, then it's baked.
You can also use a thermometer to check on the inside temperature of the bread. You're looking for about 200° in the middle.
Be brave! You can do it!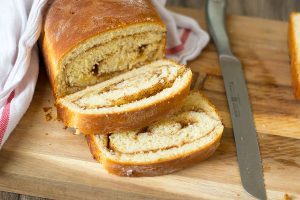 Cinnamon Swirl Bread
Homemade Cinnamon Swirl Bread
Course: Dessert, Snacks, Sweets
Directions
In a large electric mixing bowl, add flour, sugar, salt, milk, egg, butter, and yeast. Use a dough hook to mix until combined into a dough
Tip dough out onto a floured surface and knead for about 5 minutes, until dough is smooth.
Place in a bowl and cover with a towel. Allow dough to rise until it has doubled in size.
Roll dough out to a 9×12 rectangle. It should only be as long as your loaf pan.
Spread softened Cinnamon Honey Butter evenly over the surface of the dough, the roll it up, so it will fit neatly into your loaf pan.
Place in greased loaf pan and let rise again, until doubled in size.
Bake at 350° F for 20-30 minutes.
Allow to cool and serve slices with more Cinnamon Honey Butter
Notes
This dough is very sticky and wet. When you're kneading it, you may have to add more flour to your work surface.