Zucchini and Corn
They're two of my favorite vegetables, and this time of year, you can find both in abundance. Zucchini and Corn Chowder is a perfect summer soup– it's light, healthy, and delicious! And it doesn't have to be piping hot for you to enjoy it!
Zucchini is pretty easy to find year round, though it's in season during the late spring and early summer. Corn, however is a different story. Corn on the cob is best during the summer, especially the hot months. But if you find yourself craving this soup during the off season, canned or frozen corn works just as well.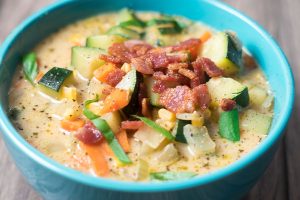 Soup vs. Chowder
What is chowder? And how is it different from soup? Chowders are usually thickened, and are chunky (opposed to bisques ,which are smooth).
I actually think I like chowders more than soups. Soup can sometimes be too watery for me.
Regardless of all of that, THIS chowder is tasty!
It's helped along by using Chef Shamy Garlic Butter, which not only gives a great flavor to the vegetables, but provides a delicious base for the roux that thickens the broth.
Enjoy!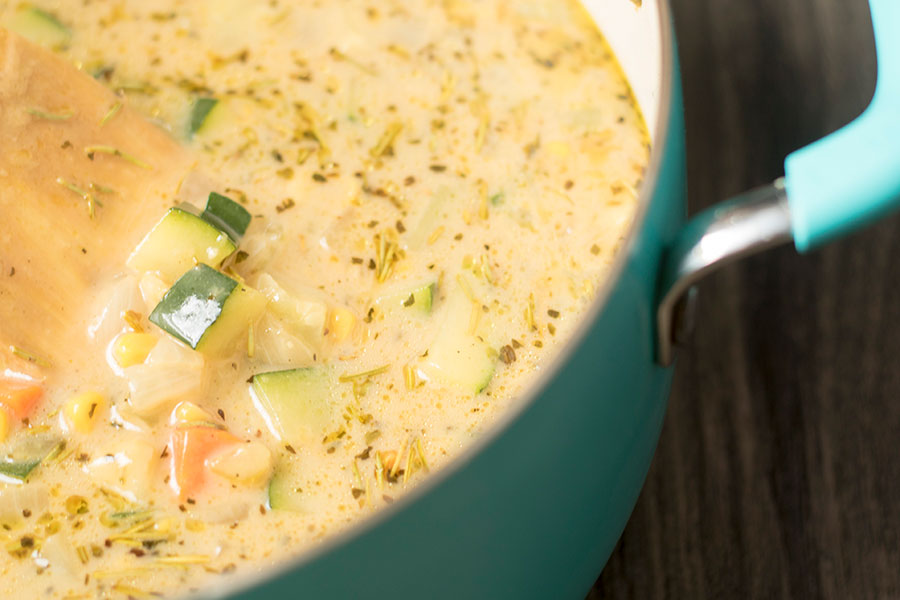 Garlic Zucchini and Corn Chowder
Course: Dinner
Ingredients
1 onion, diced

2 carrots, peeled and diced

2 stalks celery, diced

1/4 tsp EACH dried thyme, dried basil, and dried rosemary

1/4 cup flour

4 cups chicken broth

1 cup milk

1 bay leaf

2 medium zucchini, chopped

1 1/2 cups corn kernels (I used canned)

Salt and pepper to taste
Directions
Melt Garlic Butter in a pot over medium heat. Add onion, carrots and celery. Salt and pepper. Cook until the vegetables are tender, about 4-5 minutes. Stir in thyme, basil and rosemary and cook another minute.
Whisk in flour until lightly browned, about 1 minute. Stir in chicken broth, milk, bay leaf, zucchini and corn. Cook, stirring constanty, until starting to thicken.
Bring to a boil, then reduce heat and simmer until zucchini is tender, about 5-10 minutes. Season with salt and pepper, to taste.
Serve immediately
Garnish with Parmesan cheese and crumbled bacon.