Cookies!
I grew up with a mom who baked. And she is a fantastic baker! She made cookies, brownies, cakes, pies, and sometimes even candy! I was a lucky kid, and still am! My mom's baking fills a large area of my childhood memories, and the nostalgia around homemade baked goods is enormous. The thing I loved most (and still love) is a made-from-scratch cookie. These Cinnamon Pumpkin Snickerdoodles fit the bill, and man, are they delicious.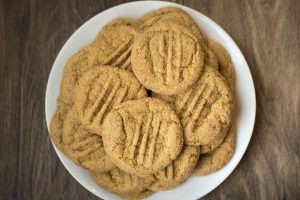 Snickerdoodles
I mean, where does that name come from, anyway? Who made this cookie and thought, "Let's call it a SNICKERDOODLE?" I'll have to look it up. We know snickerdoodles as a soft, chewy, cookie that's been rolled around in cinnamon sugar. My mom used to make snickerdoodles. And they were great! But they were a little different, because she used sour cream rather than cream of tartar. I don't know what the science is behind that, but they turned out really well.
These Cinnamon Pumpkin Snickerdoodles are a notch above the classic, because of the addition of — you guessed it– pumpkin! I really like pumpkin, and I especially like to bake with it. Adding pumpkin to snickerdoodles makes sense! The result is lovely, and is one you'll go back to often, and not only in the fall.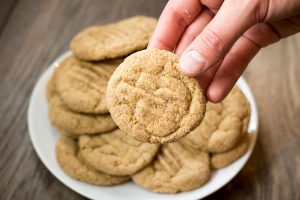 Making Pumpkin Snickerdoodles
The recipe here is pretty straightforward. Of course, the secret ingredient is Chef Shamy Cinnamon Brown Sugar Honey Butter. It's the perfect thing to bake with, as it adds the right amount of cinnamon and honey sweetness to a cookie that will soak it right up.
Once you've got your dough together, roll the dough into balls (this recipe is enough to make about 2 1/2 dozen cookies). Roll the dough balls in your cinnamon sugar mixture, then put them on a baking sheet. Use a fork to flatten them slightly. You don't want to totally squish them, just push them down enough to resemble a cookie shape. These cookies bake up so much that you want to get them started the right way. They may look under-baked, but check the edges and the bottoms. If it's a nice golden brown, you're ready to go.
You'll love how easy these Cinnamon Pumpkin Snickerdoodles are! They'll be gone in a jiffy — you'll have to whip up another batch!
Here's two more cookie recipes to try:
Our version of the classic: Julie's Pudding Chocolate Chip Cookies
Another fall treat: Apple Peanut Butter Cookies
Enjoy! Thanks for making the world a butter place!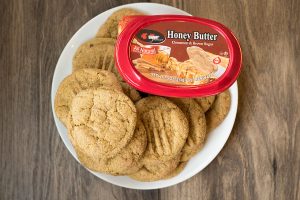 Cinnamon Pumpkin Snickerdoodles
Cinnamon Pumpkin Snickerdoodles
Course: Snacks, Sweets, Dessert
Ingredients
1/2 cup Chef Shamy Cinnamon Brown Sugar Honey Butter, softened

1/2 cup granulated sugar

1/4 cup light brown sugar

1/2 cup pumpkin puree

1 tsp pure vanilla extract

1 1/2 cups flour

1/2 tsp cream of tartar

1/2 tsp baking soda

1/4 tsp baking powder

1/4 tsp salt

2 tsp pumpkin pie spice

Cinnamon Sugar Mixture:

1/4 cup sugar

1/2 tsp cinnamon
Directions
Preheat oven to 350° F
In a mixing bowl, beat the Cinnamon Butter with sugar and brown sugar, until there are no lumps. Beat in the pumpkin and vanilla extract until smooth
In a separate mixing bowl, whisk together flour, cream of tartar, baking soda, baking powder, salt, and pumpkin pie spice.
Combine dry ingredients with wet ingredients, mixing until combined. Chill the dough for 30 minutes
Line two baking sheets with parchment paper. In a small bowl, make cinnamon sugar mixture by stirring together sugar and cinnamon.
Using a cookie scoop or spoon, divide the dough into balls, about 1 -2 Tablespoons in size. Roll the dough balls in the cinnamon and sugar mixture to coat, then place on the baking sheets. Flatten the balls slightly using a fork
Bake for 8-10 minutes, until the edges are barely golden. Let the cookies cool on a wire rack.
Enjoy!