My Favorite Soup
It's officially soup season, and I'm so excited! When sweater weather comes around, and pumpkin spice is in the air, I'm the one looking forward to a nice bowl of soup with a nice crusty bread for dipping. I have a lot of soups that I like, so it's hard to pick a favorite. But Clam Chowder is right up there, especially when it's homemade. And to be honest, I've had a lot of Clam Chowder on a lot of beaches and coasts, and Chef Shamy's Clam Chowder is the best I've ever had. It's a Shamy Family Recipe, and one thing I've learned is: Shamy Family Favorites and always delicious!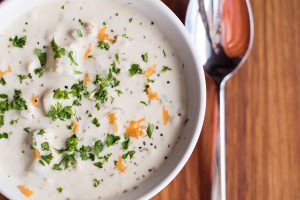 Quality Ingredients
The key with any soup, indeed with any food, is to start with ingredients that are quality. Your food is, after all, a combination of ingredients, and if the ingredients are sub par, then the overall dish will be sub par as well. But there's no need to worry about fresh here– this Clam Chowder is loaded with herbs and spices, fresh celery and potatoes. Yes, the clams are from a can, but we live in a landlocked state. If you can get fresh, go for it! Otherwise, do some research and find out the next best way to get clams. You'll want to figure out which brand produces the best and freshest product.
Don't forget to serve with Garlic Bread, using Chef Shamy Parmesan Basil Garlic Butter!

Clam Chowder Chef Shamy Style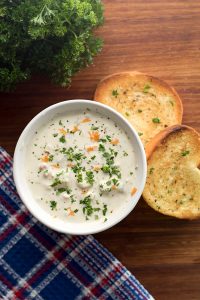 *Photos courtesy of Stanford Investment Systems, all rights reserved
Clam Chowder Chef Shamy Style
Course: Lunch, Dinner
Ingredients
1 large grated onion

½ lb butter

3 strips thick cut bacon

1 large potato, cubed

6 celery stalks, cleaned and diced

51 oz can chopped clams

2 T each fresh chopped dill weed, tarragon, fresh parley, and dried oregano

1 T fresh lemon juice

1 T white wine vinegar

1/4 cup white wine or brandy

4 cups heavy cream

4 cups chicken broth

2 T Corn Starch

1/2 cup flour

1 TBL salt

1 tsp each black pepper and white pepper

1/4 tsp red pepper flakes
Directions
Dice bacon and fry in the bottom of a stock pot.
Add diced onion to bacon fry and sauté until onions are browned on the edges.
Add butter, herbs, and seasonings.
Pour entire can of clams and clam juice into pot. Add the lemon juice, vinegar and white wine. Add half of the chicken broth. Bring to boil and add cubed potato and diced celery and simmer 10 minutes.
Roux: Mix remaining broth with flour and corn starch. Add cream and roux and simmer 15 minutes.
Serve immediately with Chef Shamy Garlic Bread