Turkey Chili
Turkey Chili is a healthier alternative to regular chili. But you don't have to lose out on flavor to eat healthier, and our recipe proves it! This chili is hearty, warm, and bursting with flavor. As it simmers in the crockpot all day, your house will smell so good!
The great news is that thanks to the crockpot, this recipe is incredibly easy to make. Let's talk through it.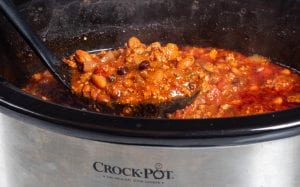 The Turkey
Start with some of our delicious Fresh Churned Garlic Butter. Melt it down in a skillet and add a couple pounds of ground turkey. Turkey is very lean, so you need the additional fat from the butter to help it cook; plus it adds great flavor. Brown the turkey like you normally would, but a few minutes before it's cooked all the way, add some onion and jalapeno. Once it's all done, transfer it to your slow cooker.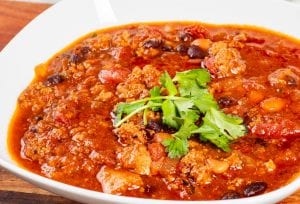 All the Spices
Now it's a matter of adding the rest of your ingredients– beans and tomatoes of course, and lots of spices. Here's the list: oregano, cumin, salt, pepper, paprika, chili powder, and a dash of Worcestershire sauce. With all that, along with some chicken stock, you're ready to set it and go about the rest of your day!
To eat, we topped our chili with sour cream, cilantro, and some cheddar cheese. What are your go-to chili fixin's?
Enjoy!
Crockpot Turkey Chili
Course: Dinner
Ingredients
2 lb ground turkey

1 red onion, chopped

1 Jalapeño seeded and minced

15 oz can pinto beans, drained

15 oz can black beans, drained

6 oz can tomato paste

15 oz can fire roasted tomatoes, drained

2 cups chicken stock

1 T dried oregano

1 T ground cumin

2 T salt

1 T pepper

1 T smoked paprika

2 T chili powder

1 T Worcestershire sauce

Serve with:

Sour Cream

Fresh cilantro

Shredded cheddar cheese
Directions
Melt Garlic Butter in a large pan or skillet. Add ground turkey and break into chunks. Cook until mostly browned. Add red onion and jalapeno, and cook an additional 5 minute until turkey is cooked and onions are soft. Dump into crockpot.
Add beans, tomato paste, fire roasted tomatoes, chicken stock, oregano, cumin, salt, pepper, paprika, chili power, and Worcestershire sauce to the crockpot. Stir to combine.
Cook on Low for 6-8 hours or High for 3-4 hours.
Serve with sour cream, cilantro, and cheddar cheese.