The chocolate chip cookie is said to have been invented (either purposefully or accidentally) by Ruth Wakefield who owned a popular restaurant- The Toll House Inn. She would mix in chunks of chocolate from Nestle into her cookie dough and it was a hit with customers and has now become a national staple baking recipe.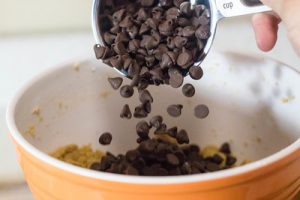 Now I'm very picky about my chocolate chip cookie. I find many to be dry and therefore, not very tasty. I had a best friend who loved to bake for her friends, family, and three incomparable daughters. She was good at baking too.
She had her own variation on the chocolate chip cookie that taste simply delicious. The special ingredient? Pudding mix. Brilliant. We have since fallen out of touch, but I can still remember watching her in her kitchen, very precisely adding ingredients to her Bosch mixer and setting timers for the next batch while the fresh ones sat on a cooling rack. She often only made these special treats in winter too, so as not to make an unbearably hot summer's day even more miserable. I would often get scolded for messing up the cookie count by sneaking a fresh, warm, gooey delight- totally worth it.
In this recipe, I have slightly modified Julie's recipe so that I was able to use exactly one 10 oz tub of Chef Shamy European Style Whipped Butter. The best place to get this right now is at Sam's Club during one of our road shows, online at our store, or on Sam's site.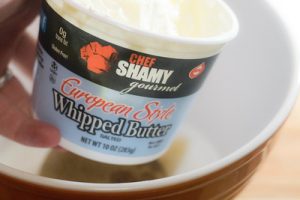 Also, you can use vanilla extract from the grocery store, but I made my own (it takes two months to make). You can find the recipe here.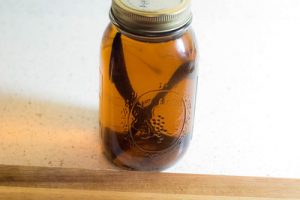 Julie's Chocolate Chip Cookie Recipe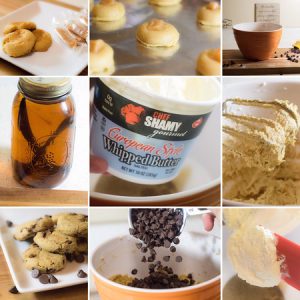 Julie's Pudding Chocolate Chip Cookie
Course: Dessert, snacks, sweets
Ingredients
1 Large Package Vanilla Pudding Mix

3 Sticks salted butter

1/2 Cup Sugar

1 Cup Brown Sugar

1/2 Tablespoon Vanilla

3 Eggs

3 Cups Flour

1/2 Tablespoon Baking Soda

3 Cups Chocolate Chips
Directions
Preheat oven to 375º.
In a large bowl, mix together the pudding, butter, sugar, brown sugar, and vanilla. Cream until smooth. Then add the eggs until blended, then add the flour and baking soda until blended. Now add the chocolate chips.
Line a cookie sheet with aluminum foil for easy cleanup. Using a spoon or strong tablespoon, put the dough into balls on the cookie sheet. Bake 10-12 minutes. Remove and let cool. Makes about 36 cookies depending on how much cookie dough you eat during the process.
Notes
DO NOT forget to add the baking soda. Once upon a time I did not add it and while my cookies still tasted good, they did not bake correctly.