Biscuits
Let's talk biscuits. We've made biscuits before, but these Sweet Potato Biscuits are something special.
Biscuits can be tricky to make– the recipe has to be just right. If not, they'll be too dense, or too dry, or burned outside and raw in the middle.
Luckily, this recipe is stellar, and there are a couple of reasons why. The first is Chef Shamy Cinnamon Brown Sugar Honey Butter. It's got a great sweet cinnamon punch, and adds a ton of much needed flavor to these biscuits.
The second is sweet potatoes.
Sweet Potatoes
I'll be honest, I'm not a big fan of sweet potatoes, so I was wary about what they would do to a biscuit. It turns out, adding sweet potatoes creates a really moist and flavorful dough that's easy to make and easy to work with.
Just boil or bake a couple of sweet potatoes (we steamed ours in a special steaming bag that was at the grocery store). In fact, you'll almost want to cook them a little too long. They need to be really soft and mashable, otherwise you'll end up with little starchy chunks in the biscuits.
Once they're cooled, peel them, mash them, and measure them.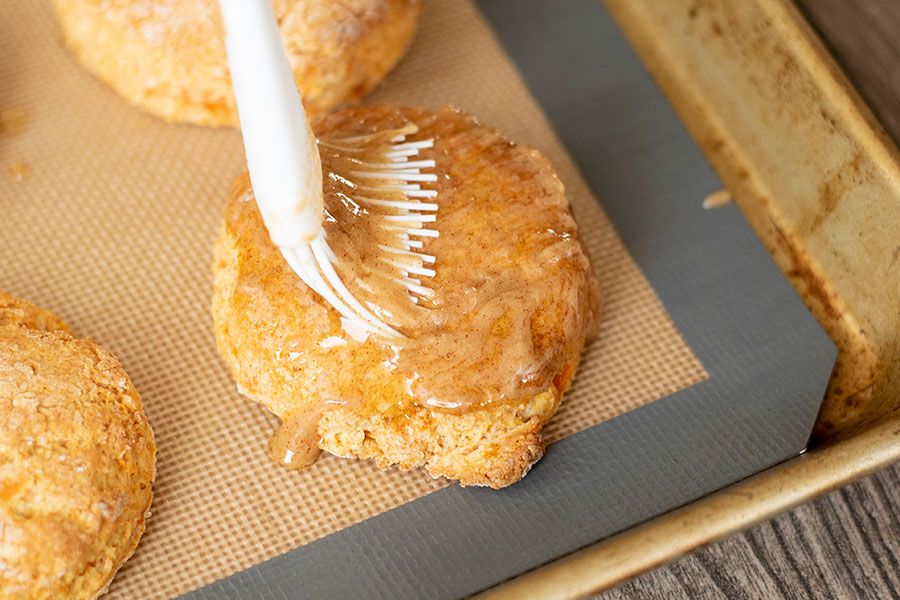 Making Biscuits
The one big tip about making biscuits that I can give you: don't overwork the dough! It's not bread; don't knead it. Once all the ingredients have been combined, stop!
Drop the dough on a floured surface, and gently shape into ball. Then lightly roll the dough out to about 1- 1 1/2 inches thick. Cut out the biscuits and place them on the baking sheet! If you overwork the dough, it will be hard and dense instead of fluffy and light.
Of course, brush a little extra Cinnamon Honey Butter on the warm biscuits as they come out the oven– it'll be delicious!
Enjoy!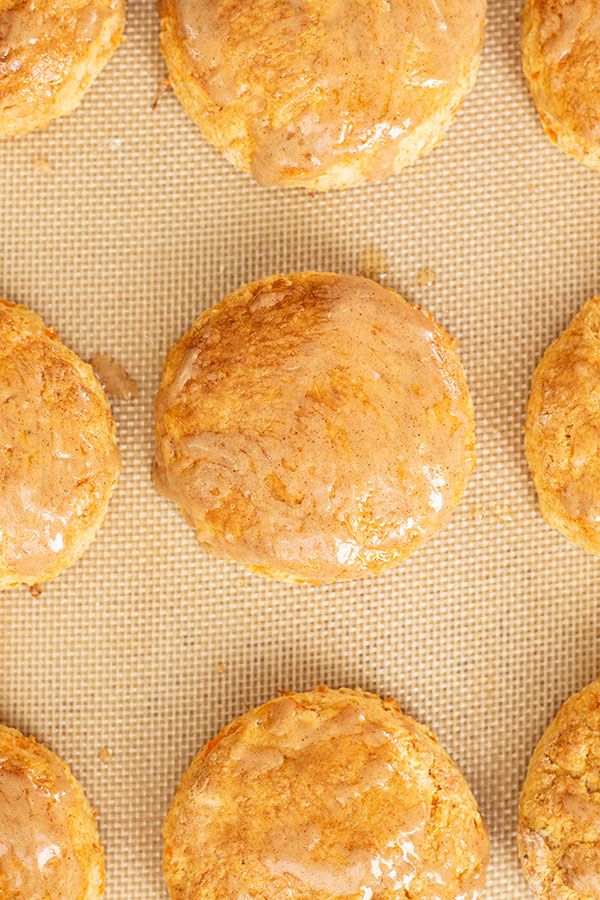 Cinnamon Honey Sweet Potato Biscuits
Directions
Preheat oven to 450° F.
In a large mixing bowl, whisk together flour, sugar, baking powder and salt.
Add mashed sweet potatoes and Cinnamon Honey Butter and combine. Add milk as needed. Don't overwork. Just bring everything together into a dough, then dump onto a floured surface.
Gently roll dough out and cut biscuits.
Place biscuits on a greased baking sheet. Bake at 450° F for about 15 minutes.
Brush with additional melted Cinnamon Honey Butter, if desired, then allow to cool completely.