Scallops
I'm a big fan of scallops. And these Lemon Dill Pan Seared Scallops are one of the best I've ever had.
Scallops can be a bit of an acquired taste. Meaning, I don't know that many kids who love scallops. But when they're prepared correctly, they can be absolutely divine. Like a lot of seafood, scallops take on whatever flavor you give them. So when your flavors are on point, you really can't go wrong.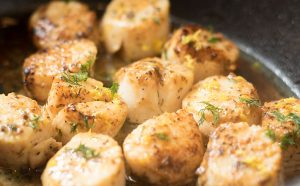 Lemon Dill Butter
And Chef Shamy Lemon Dill Butter has a great flavor! It's not one that we use a ton in recipes, but it's not because it isn't amazing. Actually, it's a seasoning butter, or a saute butter, which just means that it has more salt than our normal butters. You shouldn't have to add any extra!
There's something about lemon and scallops that just works. Add a little white wine, some fresh lemon, and some fresh dill, and you're golden.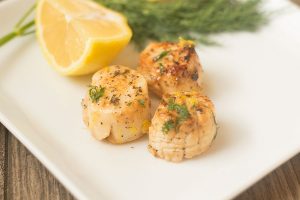 Pan Seared Scallops
The most difficult thing about this recipe is the scallops themselves. Scallops are tricky to cook if you've never done it before. Like any other kind of seafood, scallops are easy to over cook, and overcooked scallops are terrible to eat.
Pan searing is best because it gets a nice, quick sear on both sides without overcooking the middle. Once you've got you butter and wine reduction, it really only takes 2-3 minutes on each side. As long as there's a nice golden color from your sear, you're good to go. Just make sure your pan is hot enough to get a quick sear on the scallops!
You can do it!
Enjoy!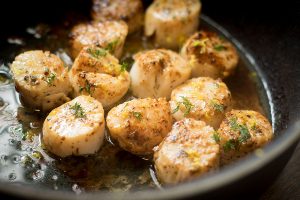 Lemon Dill Pan Seared Scallops
Course: Dinner
Ingredients
¼ cup white wine

12 scallops

Juice and zest of 1 lemon

1 T fresh dill, chopped
Directions
Melt Lemon Dill butter over medium heat. Add white wine and reduce by half, about 5 minutes.
Add scallops to pan and increase heat to medium high. Cook 4 minutes each side, until there is a golden brown crust.
Take pan off the heat, and squeeze the juice of a lemon over top.
Garnish with lemon zest and fresh dill