Cheese Dip!
It's that time of year. The pigskin starts to fly, the air gets colder and crisper, and we go on the hunt for game time food. Nothing screams football food more than chips and dip– especially cheese dip. Enter Garlic Herb Spinach Cheese Dip. There's a saying that goes something like, "There's no such thing as too much cheese." Is that a saying? Well, it's my saying. I truly believe that, and this recipe is just that: a delicious, decadent mix of cheese. With spinach and red peppers, so it's healthy, right? Cause there are vegetables in there. Right? RIGHT?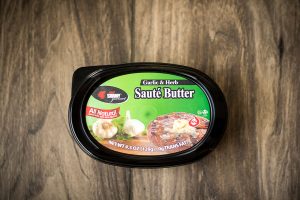 Garlic and Herb
This recipe features Chef Shamy Garlic and Herb Saute Butter. Now, this is a different butter than our Parmesan Basil Garlic Butter. The Garlic and Herb Saute Butter is a completely different mix, though still with garlic. Instead of Parmesan cheese, we add a special blend of herbs that give such a great flavor to any dish– and our cheese dip is no exception. It really kicks the onions, spinach, and red peppers in there up a couple notches. Side note– if you don't like red peppers, still put them in. You need that little kick to break through all the fat. Trust me, keep those peppers in there.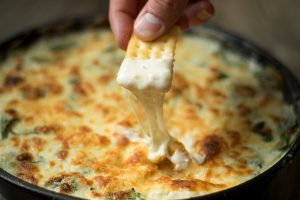 What you dippin'?
One of the things I like about cheese dip is the variety of things to dip in there. Of course, you could use tortilla chips. But I actually think chips are too flimsy to hold up to a good cheese dip. I want crackers or bread. Something I can really dig in there and get all the goodness inside the dip in one bite. What do you prefer?
I cannot stress enough how delicious this is. I could eat an entire pan by myself, but I think we've talked enough about my problems controlling myself around great food. All I can say is: be careful. You'll be addicted after the first bite.
In need of another game time finger food? Try our Cheesy Garlic Bread Pull-Aparts!
Or try this great compilation: 6 Fantastic Finger Food for Football Parties!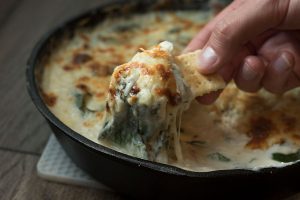 Garlic Herb Spinach Cheese Dip
Garlic Herb Spinach Cheese Dip
Course: Sides
Ingredients
1/2 cup chopped onion

1/4 cup flour

2 cups milk

1 tsp Worcestershire sauce

1/2 cup sour cream

4 oz fresh spinach

1/2 cup roasted red peppers

8 oz softened cream cheese

1 1/2 cup mozzarella cheese, divided

3/4 cup parmesan cheese, divided
Directions
Preheat oven to 375°
Melt Chef Shamy Garlic and Herb Butter in a large skillet or cast iron pan over medium high heat. Saute onion in butter 2-3 minutes.
Add flour and cook, stirring, for 2-3 minutes.
Reduce heat to low and slowly stir in milk and Worcestershire sauce. Increase heat to medium high and bring to a simmer, while stirring, until thickened.
Remove from heat and stir in sour cream until smooth
Add spinach and red peppers, followed by cream cheese, 1 cup mozzarella, and 1/2 cup parmesan
Smooth dip into an even layer, then top with remaining 1/2 cup mozzarella and 1/4 cup parmesan
Bake for 15-20 minutes until bubbly and soft. Broil until cheese is golden brown
Let sit 5 minutes then serve with crackers, tortillas, or bread