Crusted Salmon
This recipe for Garlic Bread Crusted Salmon is delicious, and so easy! It's become one of my favorite ways to prepare salmon, which is a delicious and delicate fish.
If you're one of the lucky ones who lives in range of fresh fish, then you'll use fresh salmon! And that's awesome! But if you live in a landlocked state, like most of us, you'll have to use frozen salmon. Sometimes you can get lucky with some fresh fish at your grocery store, but frozen is an okay option.
Let's talk through the recipe.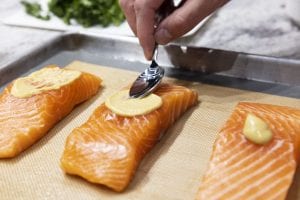 Garlic Bread Crust
We don't literally crust our salmon in garlic bread– but it's close enough. We combine our amazing Fresh Churned Garlic Butter with some panko breadcrumbs and a little bit of lemon zest.
The crispiness of the breadcrumbs is a delicious contrast to the soft fish. And the flavor from the Garlic Butter and lemon zest is absolutely amazing.
But first things first.
A thin layer of dijon mustard is spread over the fish to help the crumbs adhere. And the tangy mustard adds another layer of flavor.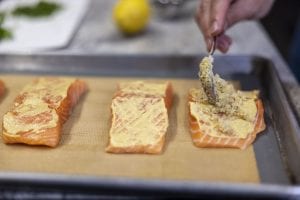 Baking Fish
Overcooked fish is gross. And fish cooks quickly, so it's important to watch your fish while it's baking. Cooking fish in the oven can be tricky, so start with five minutes and then check it.
Enjoy this delicious Garlic Bread Crusted Salmon!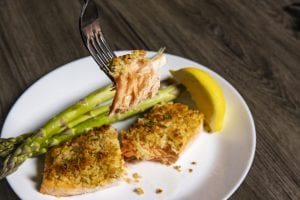 Garlic Bread Crusted Salmon
Course: Dinner
Ingredients
⅔ cup panko crumbs

2 tsp lemon zest

Salt and pepper, to taste

3 T Chef Shamy Garlic Butter, melted

4 (6-8 oz.) salmon filets

4 tsp Dijon mustard
Directions
Preheat oven to 425° F.
In a small mixing bowl, combine panko breadcrumbs, lemon zest, and a pinch of salt and pepper. Add melted Garlic Butter and stir until the breadcrumbs are evenly coated..
Lay the salmon filets on a greased baking sheet. Spread a teaspoon of dijon mustard on each piece of salmon. Divide bread crumbs evenly between the filets and gently press down to adhere to the fish.
Bake at 425° F for 5-8 minutes, or until cooked to your liking.
Serve.