Garlic Bread Crusted Salmon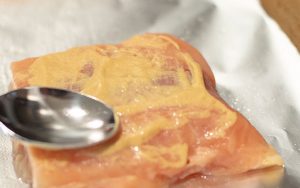 ⅔ cup panko crumbs
2 tsp lemon zest
Salt and pepper, to taste
3 T Chef Shamy Garlic Butter, melted
4 (6-8 oz.) salmon filets
4 tsp dijon mustard
Preheat oven to 425° F.
In a small mixing bowl, combine panko breadcrumbs, lemon zest, and a pinch of salt and pepper. Add melted Garlic Butter and stir until the breadcrumbs are evenly coated..
Lay the salmon filets on a greased baking sheet. Spread a teaspoon of dijon mustard on each piece of salmon. Divide bread crumbs evenly between the filets and gently press down to adhere to the fish.
Bake at 425° F for 5-8 minutes, or until cooked to your liking.
Serve.
Recipe by
Chef Shamy
at https://chefshamy.com/garlic-bread-crusted-salmon/