Grilled Cheese
Grilled cheese sandwiches are a classic. There's something nostalgic for all of us when we eat one, or smell one, or make one. But don't let anyone tell you that all grilled cheeses are created equal.
They're not.
The bread you use, the type of cheese, and the butter are all important factors in making your sandwich the best.
You may know the Chef Shamy Best Grilled Cheese Ever with Garlic Butter.
But here's another little twist: French Onion Grilled Cheese!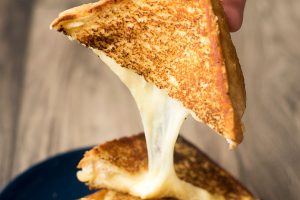 French Onion
Chef Shamy French Onion Butter with Asiago Cheese is the perfect thing to grill your cheese with. It's got an amazing onion flavor, and the hint of Asiago really adds to the overall effect.
We used Swiss cheese in this particular sandwich, because we thought it would go well with the French Onion Butter. And it did!
You can use cheddar if you want, but the sophisticated onion flavor demands a more sophisticated cheese.
But if you don't like Swiss cheese (not everyone does), try Muenster or even Havarti. Just use a lot of it, because no one wants an under-cheesed grilled cheese.
Wait what?
Sticking with it.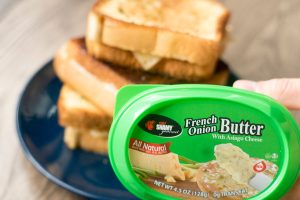 Bread
I'm a Texas Toast man myself, but I can get behind other choices.
You want a good, sturdy bread that has a good chewiness in the middle while still being able to have that crisp outside. And you want slices of bread that are thick enough to hold as a sandwich without becoming too dense or dry.
What kind of bread do you like to use for grilled cheese sandwiches?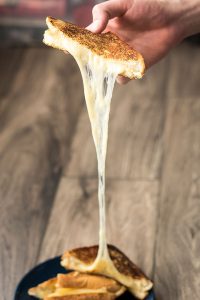 French Onion Grilled Cheese
Course: Dinner
Ingredients
2 slices bread

3 slices Swiss cheese
Directions
Butter each slice of bread (on one side) with French Onion Butter, making sure to spread to the edges and cover the whole slice.
Place one slice butter side down in a skillet over medium heat. Add slices of Swiss cheese, then the other slice of bread, butter side up.
Allow bread to toast, then flip.
Cook until cheese is melty and both sides of the sandwich is toasted.
Serve immediately with tomato soup.