Many of your first experiences with Chef Shamy Gourmet were probably at our roadshows at Sam's Club or Costco or possibly at a grocery store. If you discovered our garlic butter at one of these roadshows then chances are you were able to experience the best grilled cheese sandwich you've ever tasted!
Best Grilled Cheese You've Ever Tasted
Here's the ultimate ingredients for making the best grilled cheese sandwich you've ever tasted:
Chef Shamy Parmesan Basil Garlic Butter
Dave's Killer Bread (or Udi's Bread for our gluten-free folk)
That's it! If you want those great grill marks, then cook it in a cast iron griddle. I've put the recipe below if you'd like to print it out. Also, it is widely known that grilled cheese sandwiches are best with tomato soup. I haven't done a tomato soup yet, but my friends over at Pinch of Yum have a delicious recipe.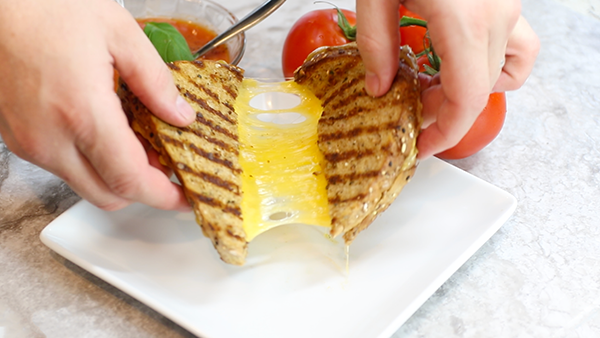 15 Variations on Traditional Grilled Cheese (GC)
Now a simple grilled cheese is easy, but if you'd like to mix it up a bit, here is a list of some variation to take traditional to gourmet. Simply put the ingredients between two piece of bread (or on the outside like butter) and grill until the cheese is melted. Check back here as I get full recipes and photos out for these bad boys.
Vanilla Bean Honey Butter GC
Havarti Tomato Basil GC
Brie Bacon Apricot GC
Gruyere Rosemary Caramelized Onion GC
Jalapeno Pepperjack GC
Prosciutto Basil Mozzarella GC
Apple Cheddar Bacon GC
Cheddar Peach Dijon GC
Monte Cristo GC
Parmesan Pesto GC
Pizza GC
Breakfast GC
Waffle GC
Croque Monsieur GC
Garlic Butter Grilled Cheese Sandwich
Course: Dinner, Lunch
Ingredients
Tillamook Sharp Cheddar Cheese

Dave's Killer Bread- 21 Grain

For a gluten-free grilled cheese, try Udi's Bread
Directions
Warm up griddle on the stove
Lay out two slices of bread
Place 3-4 slices of cheese
Put the two layers together
Spread room temperature Chef Shamy Garlic Butter on one side, edge to edge
Put in the pan, then spread butter on the other side, edge to edge
Cook until cheese is almost melted and dark grill marks have appeared, then flip and cook until cheese is completely melted
Serve with tomato soup