Instant Pot
Instant Pots are the new thing! And they're amazing. For example, you can cook a roast in an hour or less! This is a recipe that would normally take hours– if you cook the meat in a crock pot or oven. But not here! Time is money, my friends! But you know what's really great? Using an Instant Pot to make a delicious roast, and then using that roast to make the Best French Dip Sandwich you've ever had!
French Onion
French Onion isn't just a soup. Nope. Chef Shamy French Onion Butter with Asiago is packed with flavor! It's got the perfect tang of onion, a little hint of chives, and some Asiago cheese for good measure.
French Onion Butter is a great combination with French Dip, and not just because they're both French. It compliments the meat perfectly! And it keeps the bread moist and flavorful. And when you dip that bread with French Onion butter in the au jus…. It's amazing.
I've loved French Dip sandwiches for years– my mom used to make it for dinner frequently. She would use au jus from a package you can buy in the store. But using the leftover cooking broth from the Instant Pot is kinda genius, if I do say so myself. It was the most flavorful au jus I'd ever tasted.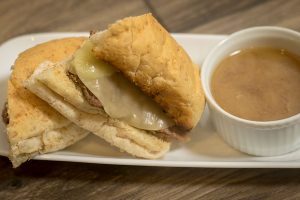 Modifications
There really are a lot of ways to make French Dip Sandwiches the right way. Don't have a roast? Use sliced deli roast beef.
Don't have hoagie rolls? Use baguette slices or even normal bread.
No Provolone? Use Swiss. Or Munster.
No Instant Pot? Use a crockpot or dutch oven. Then buy an Instant Pot while you wait for your meat to cook.
The only thing you can't substitute, however, is French Onion Butter. Seriously. It's too good for that.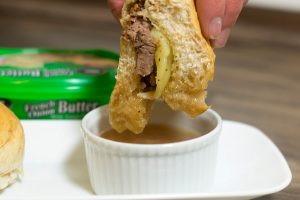 Instant Pot French Onion French Dip Sandwiches
Prep time:
Cook time:
Total time:
Ingredients
2-3 pounds chuck roast
2 tsp salt
½ tsp pepper
2 T oil
1 cup beef broth
1 T Worcestershire Sauce
Large onion, diced
1 cup white wine (optional)
6 hoagie rolls, sliced in half
4 tablespoons Chef Shamy French Onion Butter with Asiago
12 slices Provolone Cheese
Instructions
Season the roast with salt and pepper.
Add oil to the bottom of the Instant Pot, and sear all sides of the roast for about 1 minute each
Once the roast has been seared, add beef broth, Worcestershire, diced onion, and white wine.
Cook in Instant Pot for 45-60 minutes.
Remove the meat and slice thickly.
Preheat oven to Broil.
To assemble, spread French Onion Butter on both sides. Add 2 slices of Provolone cheese to each sandwich and toast, until butter and cheese are melted. Add slices of roast to complete the sandwich.
In a small bowl or cup, add some of the liquid from the Instant Pot to dip the sandwich in.
Enjoy!
Notes
If you don't want to use white wine, substitute another cup of beef broth.