Vegetable Soup
Vegetable soup is a beautiful thing on a cold day. Soup can be a tricky thing– you want it warm, delicious, and comforting. But sometimes soup can be too heavy– instead of feeling comforted, you feel fat.
That's why I love a delicious vegetarian option– and this Tuscan version is delicious. It's packed with vegetables. Some beans are added to make it more hearty, but don't worry: it's just as comforting as a soup packed with cream and cheese.
So what's in it? And what's Tuscan about it?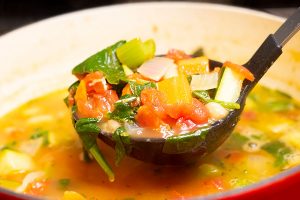 Ingredients
We start with Chef Shamy Garlic Butter. It's a great way to start any soup recipe– lots of flavor from the top. Into that delicious garlicky butter, we add onions, carrots, celery, zucchini, fresh thyme, and fresh sage. All of these veggies are readily available and inexpensive. They also soak up whatever flavor you add, so sautéing them in the Garlic Butter is delicious.
If you don't have fresh herbs, you can always use dried. I even put the conversions in the recipe for you.
Next, add some vegetable broth (low sodium if you can) and a can of diced tomatoes. Bring it to a boil, then add a can of beans. We used white kidney beans– add your favorite. Some fresh spinach finishes our soup. Sprinkle some Parmesan cheese and you've got a hearty, comforting, gimme-some-bread-to-dip-in-it soup!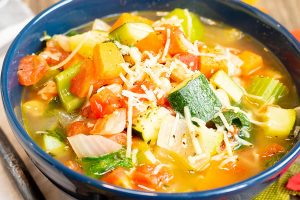 Tuscany
Tuscany is an area of Italy known for its wine. But there's no wine in this recipe, you say. How is this Tuscan, you say. Tuscany is also know for simplicity, vegetable based recipes.
And our Tuscan Vegetable Soup certainly lives up to its roots in that sense!
Also it sounds fancy.
Enjoy!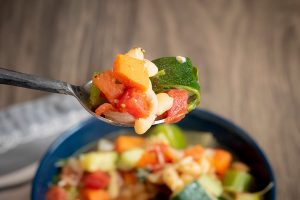 Tuscan Vegetable Soup
Course: Lunch, Dinner
Ingredients
1 cup onion, diced

½ cup carrot, diced

½ cup celery diced

2 cups diced zucchini

1 T chopped fresh thyme leaves (or 1 teaspoon dried)

2 tsp chopped fresh sage leaves (or 1/2 teaspoon dried)

Salt and pepper, to taste

4 cups vegetable broth

14.5 oz can diced tomatoes

15 oz can canellini beans, drained and rinsed

2 cups chopped baby spinach leaves

⅓ cup freshly grated Parmesan, for serving
Directions
In a large pot, melt the Garlic Butter over medium heat. Add onion, carrot, celery, zucchini, thyme, and sage. Stir to coat with Garlic Butter, then add salt and pepper to taste.
Cook for 5 minutes, or until vegetables are tender. Add broth and diced tomatoes, and bring to a boil.
Once boiling, add beans and spinach. Cook 2-3 minutes, or until spinach is wilted.
Serve immediately with a sprinkle of Parmesan cheese.