Southwestern Sauté Butter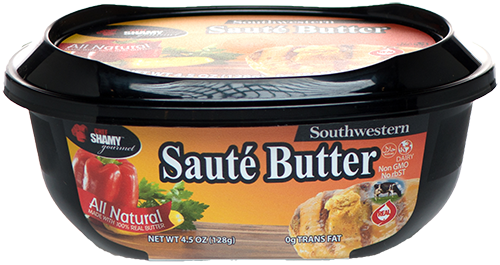 This flavor has been Temporarily Discontinued
Chef Shamy gourmet butters are the best and easiest way to take your cooking further. Our compound herb and savory kinds of butter have a complex flavor profile that will spice up any recipe in your repertoire. A kick of pepper and cilantro goes a long way with our flavor-packed, all-natural butter. When you're ready to move your cooking south of the border, Chef Shamy's Southwestern Sauté butter is the solution.
Chef Shamy only uses the best ingredients available for our products. Our butter is 100% Real Butter. It is kosher, gluten-free, and does not contain MSG or rbST growth hormones. We are proud to deliver a variety of savory and sweet gourmet butters that are free from chemical preservatives.
Southwestern Sauté Butter from Chef Shamy
Our balance of chili and herbs brings out the flavor of chicken, steak and any vegetable. Melt over rice for instant seasoning, or brush on tortillas before making quesadillas or homemade chips. All our sauté butters have all the spices and seasonings you need to cook your meal, making cooking with them effortless and straightforward! It's a guaranteed fiesta for any of your family's favorite meals.
At the next gathering, you attend, wow everyone with one of our guaranteed crowd pleasers. Chef Shamy has a proven selection of delicious recipes from our test kitchen. Some of our most popular offerings which utilize our Southwestern Sauté Butter include: Sonora Fried Rice, Baja Fajitas, Arroz con Pollo and Tongue Tingling Tacos.
Chef Shamy gourmet butters, and now real buttercream frostings, are sold throughout the US and Costco Korea (see store locator). We are continually expanding domestically and internationally to make it as convenient as possible for our customers to find us in their markets. Ask your favorite grocer to carry Chef Shamy butters.