Carrot Cake
A Carrot Cake Roll might be the best way to enjoy carrot cake! It's spring, so cake is in season. And nothing is more spring appropriate than Carrot Cake.
Few things are better than the delicious vegetable cake– and there are a lot of recipes out there. You can find our classic Carrot Cake recipe here. But this is a fun twist on the classic– a cake roll!
Cake Roll
A cake roll is a thin sponge that's spread with cream, or jam, or some other kind of filling, then rolled up. In this case, it's a carrot cake sponge, with a cinnamon cream cheese filling. Once it's rolled up, it looks like a cool spiral!
So let's go through it.
The cake batter is pretty straightforward. It's an all in one mix– throw all the ingredients in the bowl and mix it up. Line your pan (a 10×15 inch pan) with parchment paper AND spray with baking spray. This is an important step, because if the cake sticks to the pan, you'll have real trouble.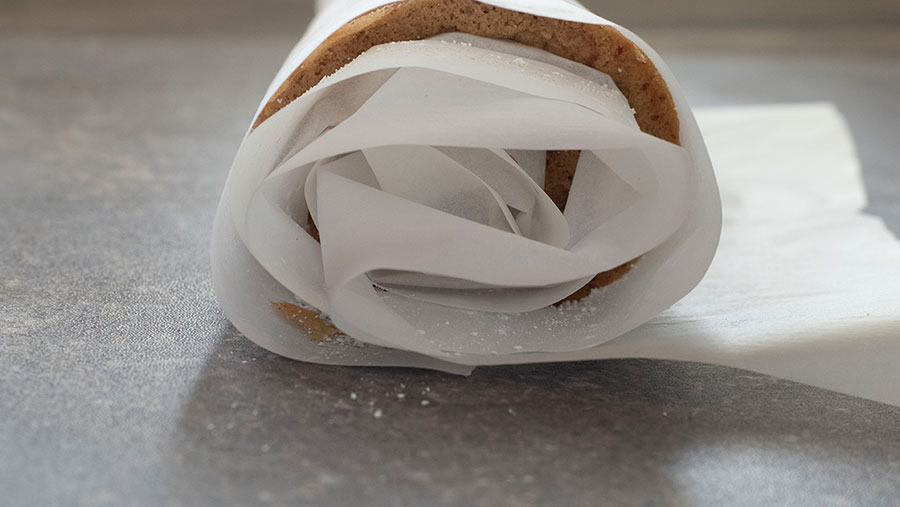 The place where this recipe can be tricky is the bake. It will be done very quickly– in about 10 minutes. It's done as soon as the cake bounces back to the touch. If you over bake the cake, it will crack, so keep a close eye on it!
When the cake is baked, turn it out immediately onto another piece of parchment paper that's been lightly dusted with powdered sugar, and roll it up from the short end. It has to cool this way, or it will crack.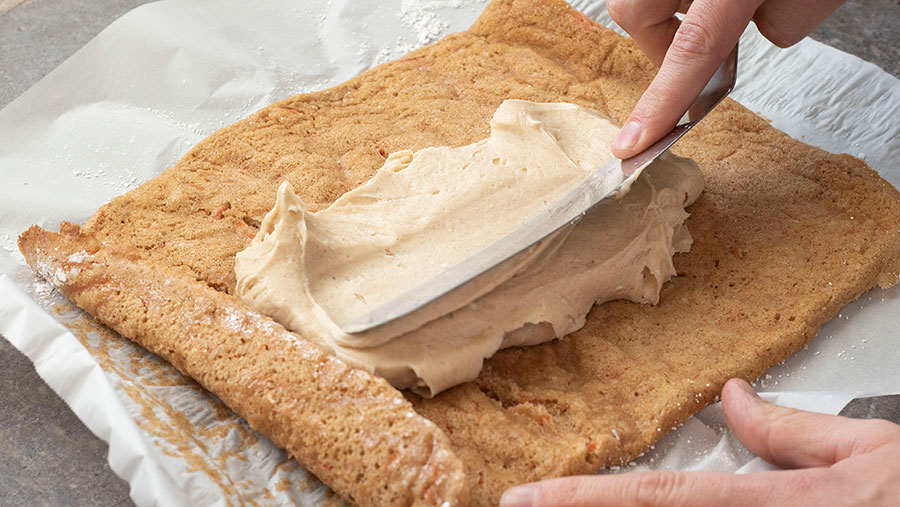 Once it's completely cooled, unroll it, and spread the cinnamon cream cheese mixture generously. Roll it back up, trim the edges, and you've got your Carrot Cake Roll.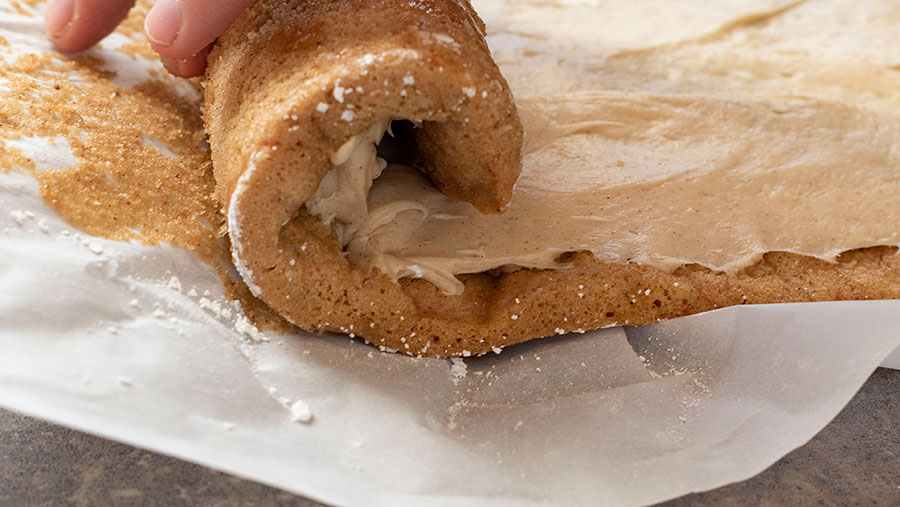 Cinnamon Cream Cheese
The filling is key here. It's got cream cheese, like a traditional carrot cake frosting– but we've added a little secret ingredient: our Fresh Churned Cinnamon Honey Butter!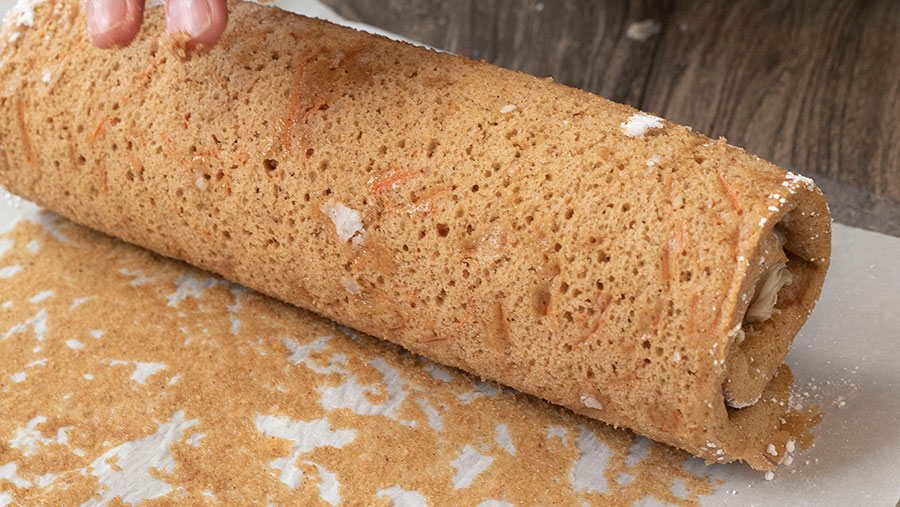 The addition of the cinnamon adds a little spice to punch through the richness of the cream cheese. And the butter itself makes the filling more spreadable.
Enjoy!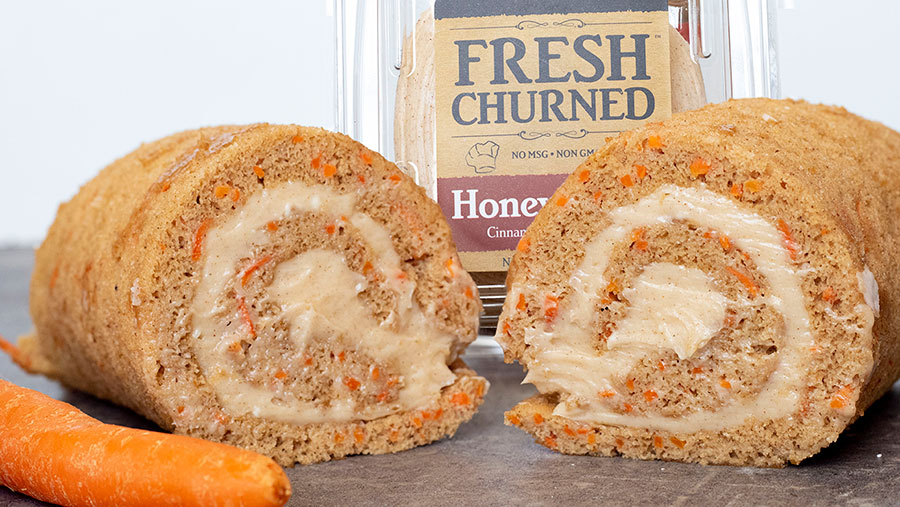 Carrot Cake Roll
Course: Dessert, Snack
Ingredients
Carrot Cake Roll:

3 eggs

½ cup sugar

2 T vegetable oil

1 tsp vanilla

¾ cup flour

1 ½ tsp pumpkin pie spice

1 tsp baking powder

½ tsp salt

1 cups shredded carrots (about 2-3 medium carrots)

¼ cup powdered sugar for rolling

Cream Cheese Filling:

1 cup powdered sugar

8 oz cream cheese, room temperature

6 T Chef Shamy Cinnamon Honey Butter, softened
Directions
Preheat oven to 375° F. Line a 10×15 baking pan with parchment paper and spray with baking spray.
In a large mixing bowl, mix eggs and sugar together until combined. Add oil and vanilla and mix. Then add flour, pumpkin pie spice, baking powder, and salt. Mix until combined.
Fold in shredded carrots.
Pour batter into greased and lined pan, Use a spatula to spread to the edges.
Bake at 375° for 10-12 minutes. Do not overbake!
Take cake out of the oven and immediately turn it out onto another piece of parchment paper dusted with powdered sugar.
Roll cake up from the short end, and allow to cool.
Meanwhile, make the filling. Add powdered sugar, cream cheese, and Cinnamon Honey Butter to a mixing bowl. Beat until combined, creamy, and smooth.
When the cake is completely cool, unroll it, and spread filling on the top. Roll back up.
Trim the edges for a neater presentation and serve.