Spam
Okay, let's talk about spam. It is a canned meat– spam supposedly stands for "specially processed animal meat." It is made of pork, and became popular during WWII as a staple of a soldiers diet. It was called "ham that didn't pass its physical" and "meatloaf without basic training."
And it's stuck around since, and become popular worldwide. It's fairly inexpensive– many of us grew up eating it.
So we decided to turn this pantry staple into something really delicious. Mission accomplished: our Honey Butter Spam is super yummy!
Honey Butter
Remove your Spam from the can, and cut it into 1/2 inch thick slices, then baste it with some of our Fresh Churned Cinnamon Brown Sugar Honey Butter. This butter is amazing, and the sweetness compliments the saltiness of the pork meat really well.
You could use our Vanilla Bean Honey Butter as well, if you so desired. Or try it with one of our savory butters! Garlic Butter is good on everything.
Grill or Saute
Cook it on a grill or saute pan, a few minutes each side. The honey butter will caramelize on the outside, creating a wonderful texture.
This recipe is so easy, you'll love it. It pairs really well with one of our favorite recipes: Grilled Pineapple!
Enjoy!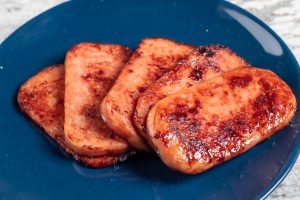 Honey Butter Spam
Course: Lunch, Dinner, Breakfast
Directions
Remove Spam from the can and cut into ½" slices.
Baste with room temperature Honey Butter. Grill on Medium-High for 3-4 minutes each side or until slightly caramelized.
Serve.
Pairs well with grilled pineapple