Caramel Corn
As the weather cools down, and the spooky season of Halloween approaches, one of the best snacks in the world is eaten in bulk: Caramel Corn! This Caramel Corn Snack Mix is easy to make and delicious!
Caramel Corn is an ingenious idea– it's the perfect mix of sweet and salty. Popcorn is naturally salty, and caramel is sweet!
This recipe is a twist on regular caramel corn– by adding more ingredients and a crunchy caramel topping, we've turned it into a snack mix!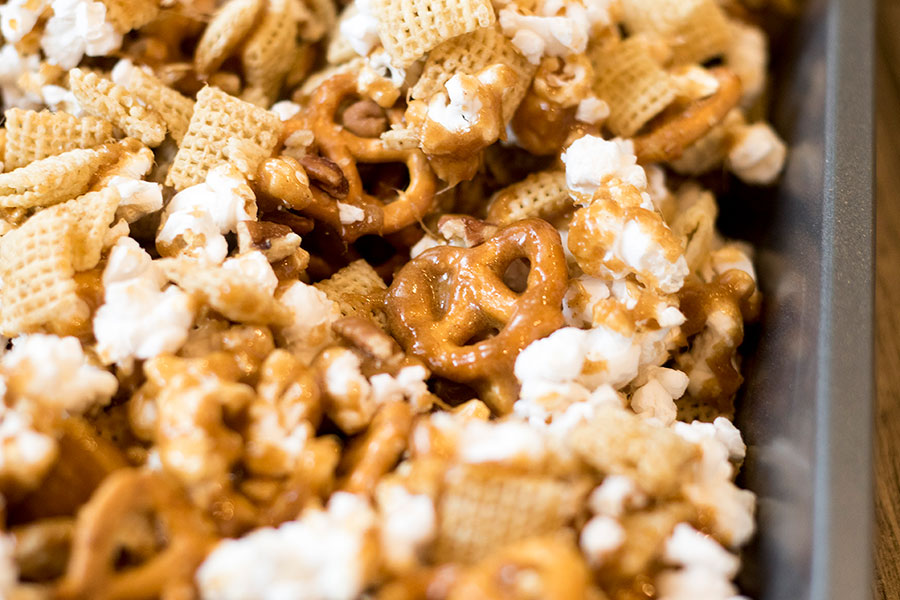 Snack Mixes
Snack mixes are currently all the rage. They're great for an afternoon treat!
Our snack mix is made from popcorn, rice cereal, pretzels, and pecans. Then we make a caramel topping– with a secret ingredient!
Chef Shamy Cinnamon Honey Butter is that secret ingredient, and it adds the perfect fall flavor to our caramel!
Don't forget to order your butter on Amazon in time for fall! Or use our store locator to find Cinnamon Butter near you!
Enjoy!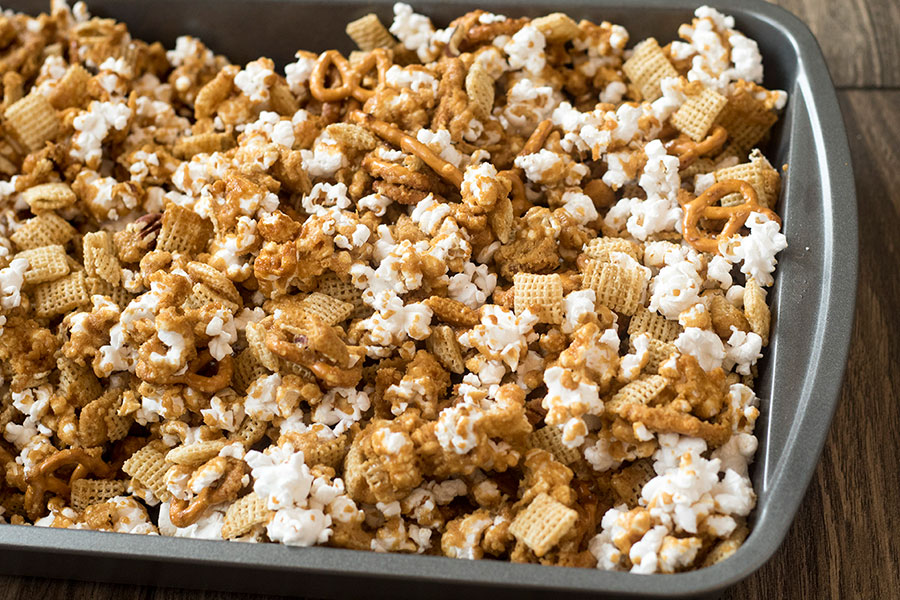 Caramel Corn Snack Mix
Course: Snacks
Ingredients
8 cups popped popcorn

4 cups rice cereal squares

2 cups mini pretzels

1 cup pecans

1 cup packed brown sugar

¼ cup light corn syrup

½ tsp baking soda
Directions
Preheat oven to 300° F.
In a baking dish, combine popcorn, rice cereal, pretzels, and pecans.
In a small saucepan, mix together brown sugar, Cinnamon Honey Butter, and corn syrup over medium heat. Stir until the mixture comes a boil. Reduce heat to medium low and boil without stirring for 5 minutes.
Add baking soda and stir to combine. Pour mixture over the popcorn mixture.
Toss gently to coat evenly.
Bake at 300° for 30 minutes, stirring halfway through.
Allow to cool, then break into pieces and serve.