Strawberry Bruschetta
Bruschetta is a appetizer (antipasto) from Italy consisting of grilled bread rubbed with oil and salt. The most common topping is a mixture of fresh tomatoes and basil, but other toppings include meat, vegetables, beans, and cheese. But we're going sweet with our Fresh Strawberry Bruschetta. It's absolutely delicious, and it can be served as an appetizer, snack, or dessert.
This is a simple recipe, but let's talk through it.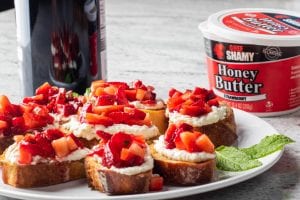 The Bread
This recipe calls for a great loaf of bread. You can buy one from your local bakery, or make one if you're into baking. A nice loaf of bread with a great crust is all you need. Cut as many slices as will fit onto a baking sheet. You'll want the slices to be 1/2 inch to 3/4 inch thick.
Brush the slices with our Fresh Churned Strawberry Honey Butter and toast them in the oven. They'll become sweet and crispy, perfect for a fresh strawberry topping.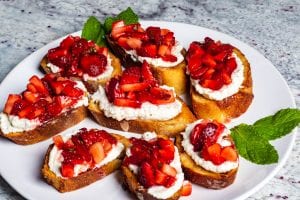 The Topping
The topping is two fold: first, a layer of ricotta cheese. It's simply seasoned with salt and pepper– do it according to your taste. The creamy layer of ricotta perfectly offsets the crisp toast and juicy strawberries.
There's nothing like fresh strawberries on a summer day. This topping might be even better though. Cut the strawberries in small pieces (see photos for a reference if you want it). Toss them with a little sugar, some fresh mint, and a splash of balsamic vinegar. All those flavors combine for a perfectly balanced bite.
This dish is so delicious, you'll make it all summer long!
Enjoy!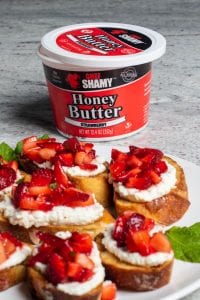 Fresh Strawberry Bruschetta
Course: Dessert
Ingredients
1 baguette loaf, sliced

6 T Chef Shamy Strawberry Honey Butter, room temperature

1 cup ricotta cheese

Salt and pepper, to taste

1 cup diced strawberries

3 leaves mint, finely chopped

2 tsp sugar

1 tsp balsamic vinegar
Directions
Preheat oven to 350° F.
Arrange sliced bread on a baking sheet. Brush bread slices evenly with Strawberry Honey Butter. Bake at 350° F for 5-10 minutes, or until bread is toasted.
Allow to cool completely.
Meanwhile, mix together 1 cup ricotta cheese with salt and pepper, to taste.
In a separate mixing bowl, toss together strawberries, fresh mint, sugar, and balsamic vinegar. Set aside for 5 minutes.
Spread a thin layer of ricotta cheese on top of each cooled slice of bread. Top with fresh strawberry mixture.
Serve immediately.