Banana Muffins
These Whole Wheat Cinnamon Banana Muffins are amazing. They're really soft and bursting with cinnamon and banana flavor!
Whole wheat muffins can be a tough thing to bake. I try not to use whole wheat flour very often, because if you're not careful, it can lead to a dense, craggy texture. But these muffins are soft, and the texture of the muffin is light. Actually, if you didn't know it used whole wheat flour, you would never guess it in a million years!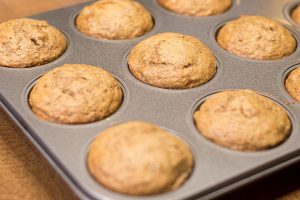 Sneaky Healthy
This recipe is what I like to call "sneaky healthy."
We've already talked about whole wheat flour. But the other sneaky thing about these banana muffins is that there's no sugar added. Seriously! NO SUGAR ADDED! It's honey instead of sugar. And honey is SO much better for you.
Some extra sweetness, of course, comes from using Chef Shamy Cinnamon Brown Sugar Honey Butter. It adds some great cinnamon flavor, as well a little extra honey flavor.
Enjoy!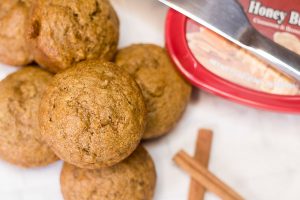 Whole Wheat Cinnamon Banana Muffins
Course: Dessert, Snacks
Directions
Preheat oven to 350° F
In a large mixing bowl, combine melted Cinnamon Honey Butter, honey, mashed banana, milk, and vanilla. Mix in eggs.
Add cinnamon, baking soda, salt, and whole wheat flour and fold in with a spatula until just combined. Don't overmix.
Spoon batter evenly into a greased muffin tin.
Bake at 350° F for 15-18 minutes until a toothpick comes out clean.
Allow to cool and serve with additional Cinnamon Honey Butter if desired