Fried Rice
I live for fried rice. I love it.
I'm in danger of never going for Chinese take out again, though, because this Garlic Fried Rice is so delicious and so easy to make!
Don't be fooled. Not everyone can fry a good rice. It starts with quality ingredients, the proper equipment, and attention to detail.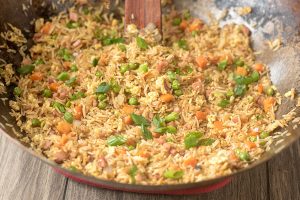 Ingredients and Equipment
The ingredients are pretty straightforward. But Chef Shamy Garlic Butter adds the right amount of great flavor at the perfect time. The vegetables and ham are sauteed in the Garlic Butter for a few minutes. Once the rice is added, all that delicious flavor gets mixed together.
I like lots of eggs in my fried rice; but everyone has different preferences. The great thing about fried rice is you can control how much of which ingredients you want. Don't like the peas and carrots? Great. Skimp on the peas and carrots. Like a lot of eggs? Add more eggs.
In terms of equipment, it's pretty necessary to use a wok. They're easy to find and pretty cheap to purchase. I like using a wok because it cooks things quickly and evenly, which is the key to this recipe.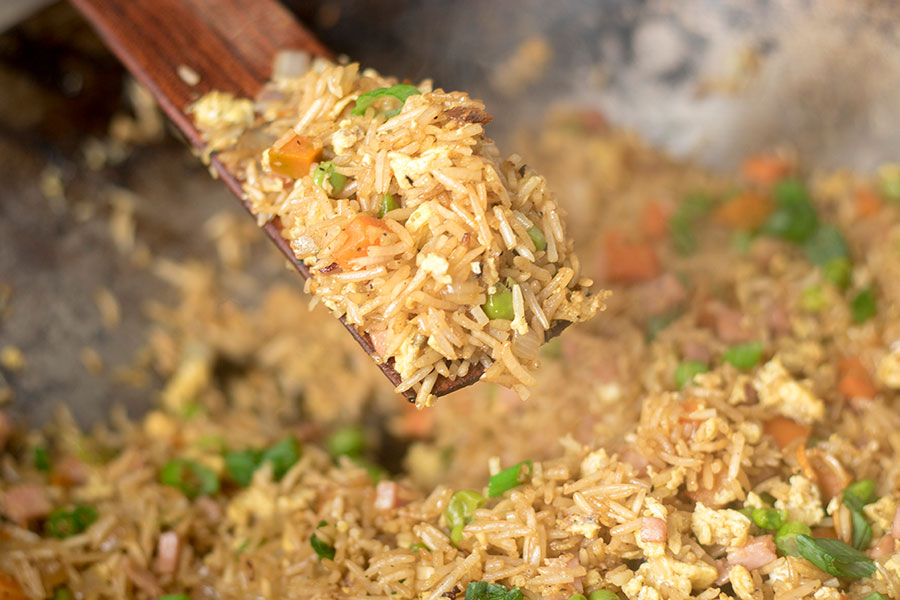 Cooking
This recipe goes pretty quick. Once you start cooking, you'll be done before you know it. My advice is to make sure you have everything ready to go before you start cooking.
Fried rice can be a great lunch or light dinner. So feel free to add chicken or shrimp to make it a more filling meal. Or serve it as a side to another Chinese dish of your liking.
Enjoy!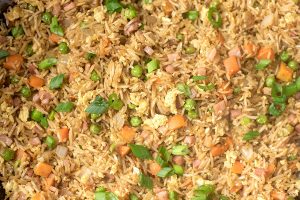 Garlic Fried Rice
Course: Sides
Ingredients
1 tsp rice vinegar

1 medium onion, finely diced

3/4 to 1 cup frozen peas and carrots

1⁄2 cup diced ham

3 cups cooked rice, chilled

2-3 T soy sauce (to taste)

3 eggs, beaten

Green onion, for garnish
Directions
In a wok, melt Garlic Butter over medium high heat. Add rice vinegar. Saute onion, peas and carrots, and ham in Garlic Butter until vegetable are tender.
Add rice and soy sauce taste. Toss to combine.
Push rice to one side of the wok, then add beaten eggs. Scramble them, seasoning with salt and pepper.
Combine all ingredients together and serve warm.
Garnish with green onion.