Pizza!
Pizza is one of those things that I could eat every day. There's so much variety when it comes to toppings and crusts. But one of my favorite pizzas is a Margherita Pizza!
It's simple, but delicious. The toppings are fresh tomatoes, fresh mozzarella cheese, and fresh basil. Notice how all the ingredients are fresh? That's probably what makes it so good. Sometimes pizza can be so heavy, so overburdened with greasy toppings.
But what really makes this pizza great is our Fresh Churned Garlic Butter!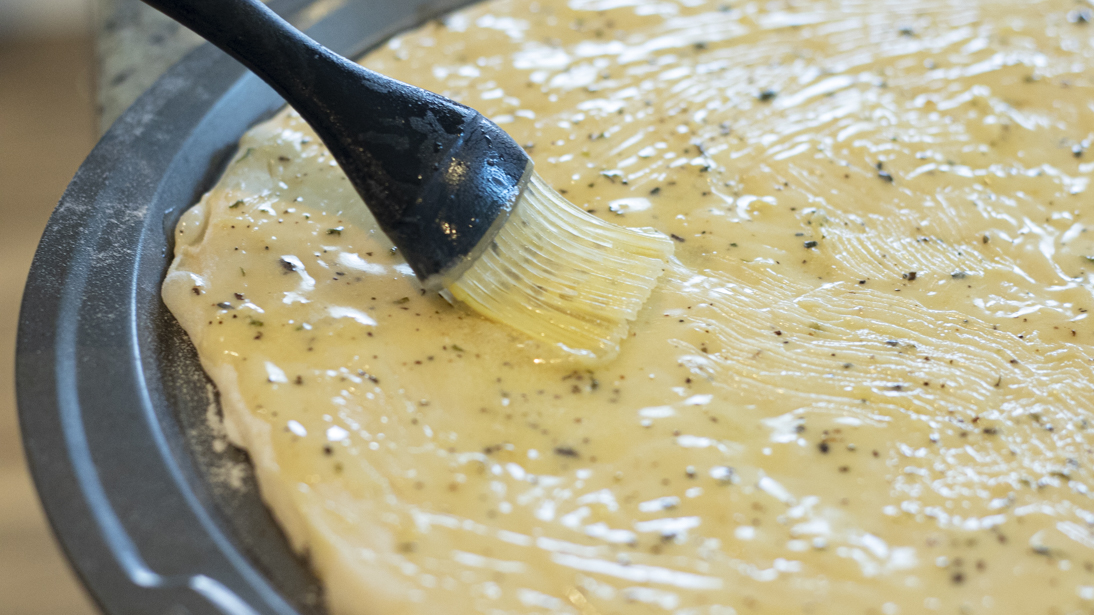 Garlic Butter Crust
A garlic crust isn't a new idea. It's made its way onto every pizza menu. But our Garlic Butter is way better than anything else out there. It's got lots of garlic, real Parmesan cheese, and basil! It adds great flavor to pizza crust– which can be flavorless and dull if you neglect it.
But we're not neglecting this crust, though– no sir! Not only do we brush Garlic Butter on the outer crust where they won't be any toppings, we brush it over the WHOLE THING! It adds great flavor to the whole pizza, not just the edges. With a sauce-less pizza, it makes a big difference.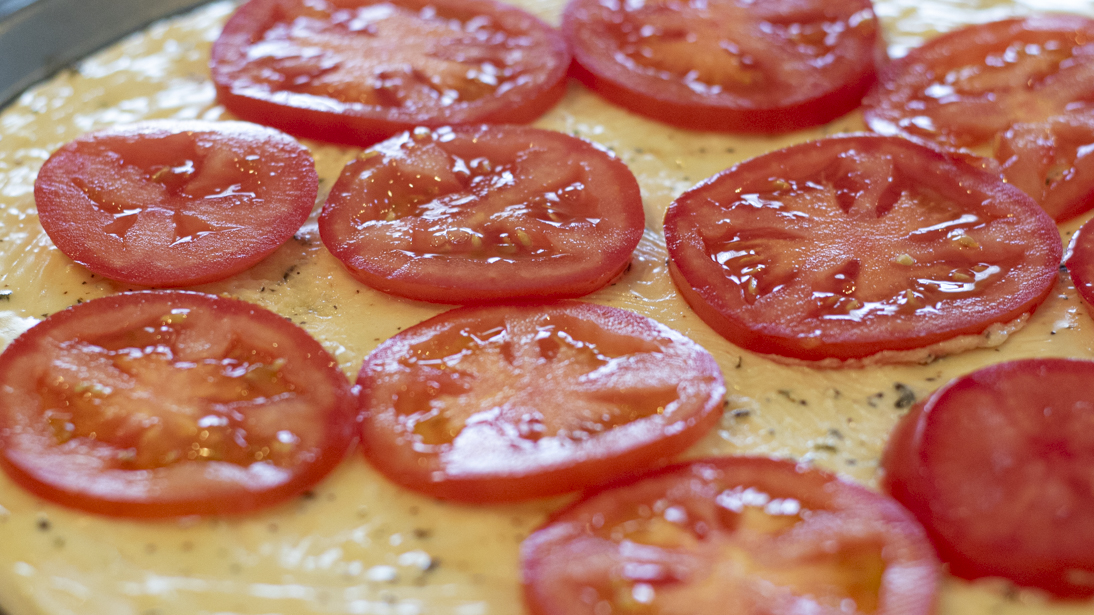 The Process
It's a pretty simple process, but let's talk about it anyway.
Once you've rolled out your dough, and put it on a pizza pan, brush it with melted Garlic Butter. We've talked about that.
Then put some thinly sliced tomatoes all over the dough. Our recipes calls for two tomatoes worth. But it depends on the size of tomatoes, how thick your slices are, and how much you like tomatoes. I love them, so I covered as much of the pizza as possible.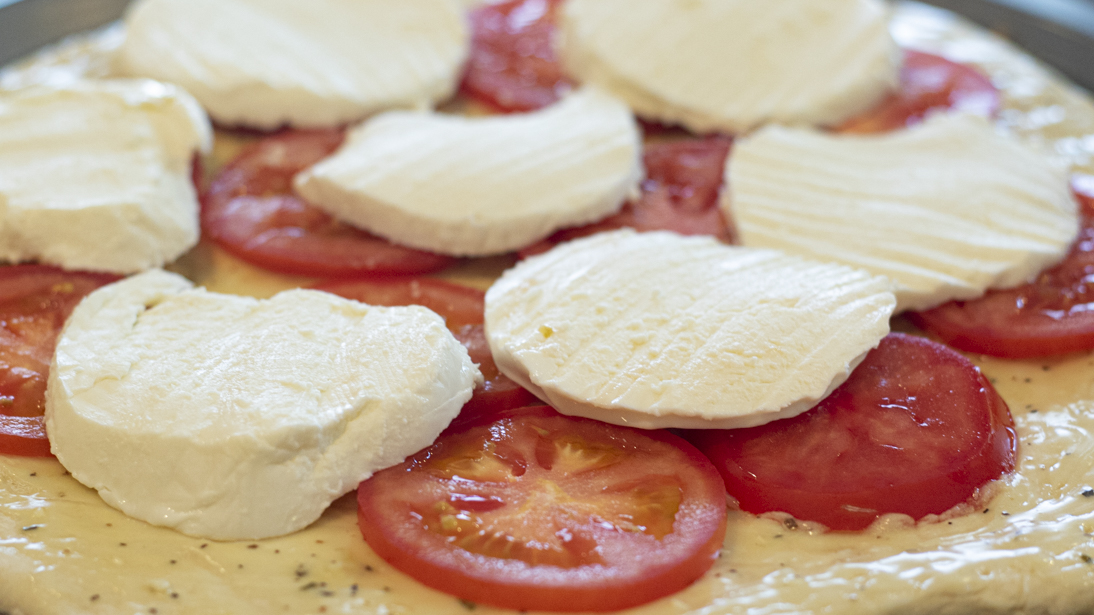 Add slices of fresh mozzarella on top. If you can get fresh mozzarella, do it! It's SO worth it! It may not be by the other cheeses in your grocery store. Usually it's in the deli or near the specialty meats.
You don't have to cover the whole thing with cheese. As it melts, the cheese will spread.
Once your pizza is baked, sprinkle some fresh basil leaves on top. You can tear them, or cut them– I prefer smaller pieces rather than a whole leaf. It makes eating easier.
Enjoy!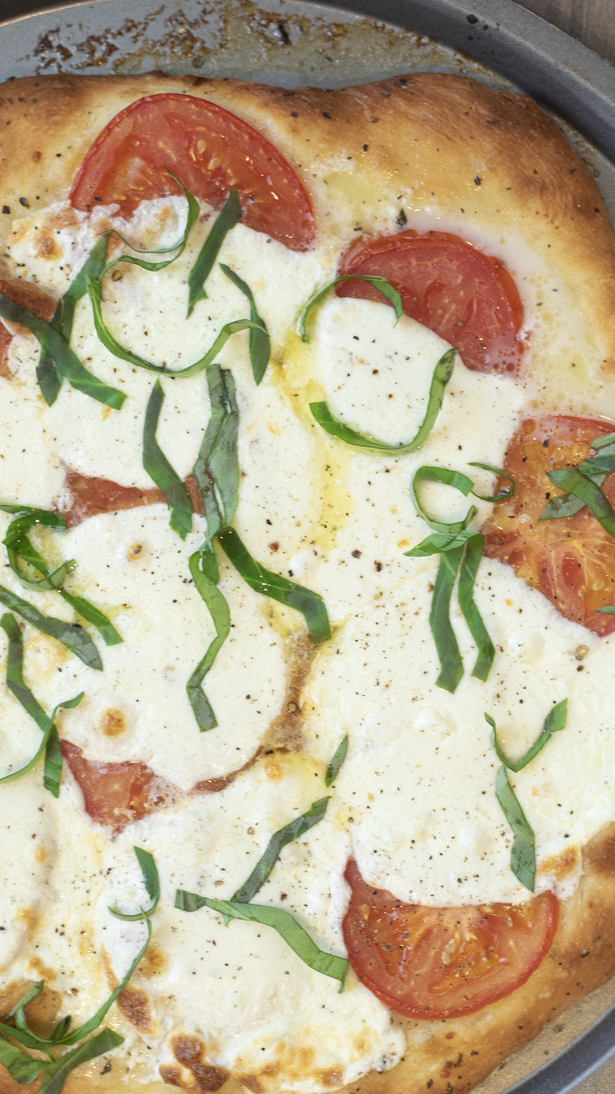 Margherita Pizza with Garlic Butter Crust
Course: Lunch, Dinner
Directions
Preheat oven to 425° F.
Roll pizza dough into a circle, then place on a pizza pan.
Brush dough generously with melted Garlic Butter. Make sure to spread all the way to the edges, so you have a garlic crust.
Place slices of tomato on the dough, then layer slices of fresh mozzarella on top. Cheese doesn't need to touch– it will melt and spread.
Bake at 425° F for 8-12 minutes, or according to dough directions.
Remove from oven, and sprinkle fresh basil on top.
Cool 5 minutes, then cut and serve.