Strawberry Buttercream
It's the simple things in life, isn't it? Strawberry buttercream is something that just makes me happy. It's fruity and sweet, creamy and fluffy. And it pairs beautifully with this Almond Cake! The cake itself is pretty straightforward– except the egg whites. The egg whites give the cake a fluffy, light, melt-in-your-mouth feel. And the flavor is killer. It's the perfect amount of almond, and wow, it goes with the buttercream frosting so well I can't even find the words to say everything I want to about it!
Unsurprisingly, Chef Shamy Butter is the star of the show here. And this time, it's Chef Shamy Strawberry Honey Butter. We've used this strawberry frosting recipe a couple times. But for this one, we added just a hint of lemon juice to cut through some of the sweetness. I thought it was important to make sure it wasn't too sweet when you're frosting a cake. And I have to say, it worked great!
Strawberry Honey Butter is one of our most popular honey butters, and it's not a mystery why. Make sure you stock up at your store or on Amazon!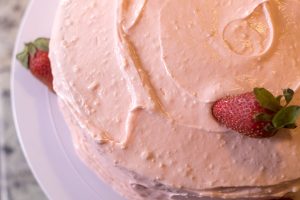 Some Tips for This Recipe
It's important to make sure the Strawberry Butter is completely soft or the frosting will be chunky. You can see we made that mistake. The frosting in these pics have a few chunks. But it tasted good. That's what matters, right? Right?
You can substitute cake flour for all purpose flour. We used AP flour because that's what was in the pantry, but use cake flour if you have it!
Take care not to over-mix the cake batter. BOTH when you're adding the flour and when you're adding the egg whites.
Lastly, hide this cake away, because you'll want to eat the whole thing yourself. I'd recommend a cupboard your kids can't reach or somewhere no one else knows about.
Enjoy!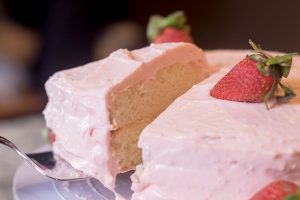 Strawberry Buttercream Almond Cake
Strawberry Buttercream Almond Cake
Course: Dessert
Ingredients
For the cake:

3/4 cup egg whites plus 3 tablespoons

1 cup butter, softened

1 1/2 cups sugar

1 cup milk

1 tsp almond extract

3 cups flour

1/2 tsp salt

2 tsp baking powder

For the frosting:

1 (6.2 oz) tub Chef Shamy Strawberry Honey Butter, softened

½ pint heavy cream

2 ½ – 3 cups powdered sugar

3-4 drops red food coloring

1 T lemon juice
Directions
Preheat oven to 375° F
In a large mixing bowl, beat egg whites until they form stiff peaks. Set aside.
In another mixing bowl, cream together butter and sugar until smooth. Add milk and almond extract, then mix.
In a separate bowl, combine flour, salt, and baking powder, then add it gradually to the wet ingredients unitl just combined.
Last, incorporate egg whites by folding them into the batter gently. Don't overmix!
Grease and flour 2 9″ cake pans. Divide the batter evenly between the two pans.
Bake at 375° for 25-28 minutes, or until done.
Allow to cool before removing them from the cake pans.
To make the frosting, combine Strawberry Butter, powdered sugar, cream, food coloring, and lemon juice and mix until smooth and creamy. If the mixture is too thick, add a little more cream. If the frosting is too thin, add more powdered sugar.
Once the cake is completely cool, frost the cake!