Rice Skillet
In this unusual time of staying at home, we've been thinking about easy recipes that use "pantry staples." Which is a fancy way of saying ingredients that you most likely already have in your house. And our Cheesy Chicken Broccoli Rice Skillet definitely fits in that category! Not only that, it's a delicious recipe that benefits by being a one-pot meal as well!
That's right, tasty food with minimal dishes. Let's talk about it.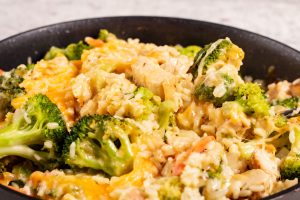 Chicken
This recipe starts with chicken. We pulled some out of the freezer, but if you have rotisserie chicken, feel free to use that and skip this step. Cook your chicken in a pot or very deep saute pan. Once it's done (use a meat thermometer to make sure) set it aside. You'll cube it up once it's rested.
Then comes our Fresh Churned Garlic Butter. Add onions and carrot and let them soak up all that delicious garlic flavor.  That brings us to the rice.
Add some rice and some broth, and cook the rice right in the pot! Rice takes about 20 minutes to cook, so throw the broccoli in when the rice has 7 or 8 minutes left.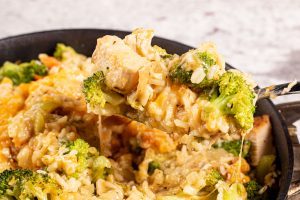 Cheese
Add your cooked chicken back into the pot, and stir everything together with some cream of chicken soup. Oooh, it'll be creamy and warm and delicious.
But it's not complete without some cheese! Add as much cheddar as you want, put the lid on, and let it melt! You know what I always say: there's no such thing as too much cheese!
Enjoy!