Ice Cream Sandwiches
Ice cream is one of the many joys of summer. I have fond memories of sitting on the lawn eating ice cream sandwiches, and they're still one of my favorite summer treats. But since I've had these delicious Rice Krispie Treat Ice Cream Sandwiches, I haven't been the same. And I think my summers have been changed forever!
This recipe is sooooo tasty– let's talk about it.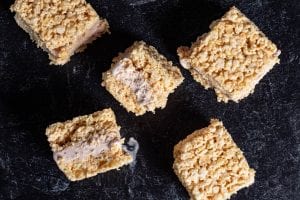 Rice Krispie Treats
You've made them before, and they're pretty straightforward. But making them with our Rich and Creamy Honey Butter makes all the difference. Melt some Honey Butter in a large pot with the marshmallows. I recommend stirring constantly over low heat.
Once everything is melty and smooth, pour in your rice cereal. Use those muscles to mix until they're fully combined– then press half the mixture into an 8×8 baking dish, and the other half into another 8×8 baking dish. (Don't forget to grease the pans!) These are the "bread" of your sandwich.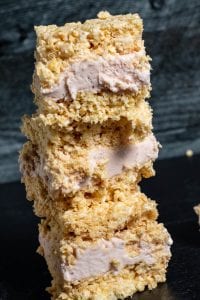 The Ice Cream
Once the Rice Krispie Treats are set, dig the ice cream out of the freezer. We used strawberry, but you could use any flavor you want: chocolate, peanut butter, mint chocolate chip, rocky road. There's literally no wrong answer.
Spread the ice cream on top of one of the 8×8 squares. It will need to be a little bit soft to smooth it out. Pop the other 8×8 square of rice krispies on top, and you've made a sandwich!
It will need to set up in the freezer, and then they're ready to serve! Enjoy!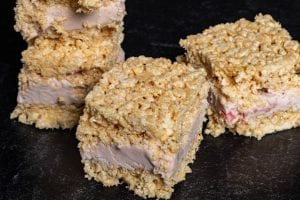 Rice Krispie Treat Ice Cream Sandwiches
Course: Dessert, Snacks
Ingredients
10 oz package marshmallows

6-7 cups Rice Krispies cereal

1 quart strawberry ice cream
Directions
Lightly grease two 8×8 baking pans. Set aside.
In a large pot, heat Honey Butter and marshmallows until melted and smooth. Stir in rice cereal until well combined.
Press half of the mixture into each of the 8×8 pans. Allow to set.
Scoop ice cream on the top of one of the pans, and make the top smooth. Remove the other square of rice krispie treats from their pan and place on top of the ice cream to make a sandwich.
Freeze 1 hour, then serve.