Leftovers
When I was growing up, we would have leftover night once a week. It was the night when we raided the fridge and cleaned out anything and everything that was leftover from the previous several dinners. Leftovers were fun– you could have whatever you wanted, and we made our own plates and warmed them up in the microwave. It created within me an expectation that you don't waste food. But Thanksgiving can be different. Sometimes Thanksgiving leftovers can hang around for 5 days, and by that time, you're absolutely sick of it. But with these French Onion Asiago Turkey Cranberry Sliders, you'll turn your leftovers into something you'll want to make again!
Sliders
What are sliders? It's a baseball pitch, and a sci-fi show from the 90s. Also, sliders are little sandwiches that you make in batches– and they're great! These sliders use leftover turkey and leftover cranberry sauce– but the secret is Asiago cheese. You may have never have bought Asiago before; usually you need to go to the deli to find it. Asiago is an Italian hard cheese with a sharp, milky flavor. I love it!
The real hero here though, is Chef Shamy French Onion Butter with Asiago. It brings a lovely onion-y, salty flavor that compliments the other element of the sandwich super well!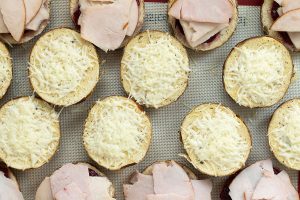 Pretzel Buns
Another unique thing about these French Onion Asiago Turkey Cranberry Sliders is pretzel buns! Have you ever had a pretzel bun before? They taste like pretzels! I bought a big bag at Costco– but you can also find them in your local grocery store's bakery. Sometimes you'll need to call ahead and ask them to make a batch for you.
Cut the buns in half and lay them out on a baking sheet.
Spread French Onion Butter on both buns.
Sprinkle the top half with Asiago Cheese.
On the bottom half, spread some Cranberry Sauce and layer a few slices of leftover turkey.
Once baked, put the tops on the bottoms and you have a delicious Thanksgiving leftover meal!
Here's some more ideas of what to do with leftover turkey!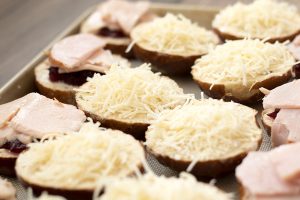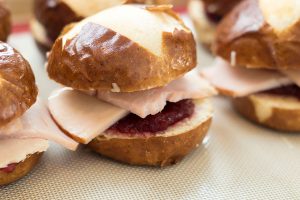 French Onion Asiago Turkey Cranberry Sliders
Course: Lunch, Dinner
Ingredients
8 pretzel buns

2 lb leftover turkey meat

8 oz Asiago cheese, shredded

1/2 cup cranberry sauce
Directions
Preheat oven to 350° F
Cut pretzel buns in half and lay them out on a baking sheet, face up.
Spread about 1/2 Tablespoon of Chef Shamy French Onion Butter on each.
On the top halves, sprinkle about 1 oz of Asiago cheese.
On the bottom halves, spread about 1 Tablespoon of cranberry sauce, then layer several slices of turkey on top of the cranberry sauce.
Bake at 350° for 5-7 minutes, until cheese is melted.
Place top buns on the bottom buns and serve immediately