Cranberry Cookies
We're loving our new White Chocolate Chip Cranberry Cookies! They're perfect around the holiday season. And cranberries make them feel very festive!
Cranberries are in season mid-September through mid to late-November, so they're naturally connected to Thanksgiving and Christmas.
And cookies are definitely connected to the holidays too. They're an easy baked good that can made in bulk and made well in advance! Let's talk about our recipe.
The Recipe
Cookie dough is pretty straightforward, so this will come together quick. We start with our Fresh Churned Cinnamon Brown Sugar Honey Butter. It adds a great cinnamon flavor and pairs perfectly with the chocolate and fruit. Then it's the usual ingredients– brown sugar, white sugar, eggs, vanilla, flour, baking soda, and salt.
Then comes our festive ingredients: white chocolate chips and dried cranberries. They're a perfect combination!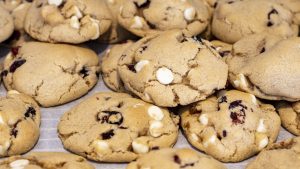 Baking
A couple of tips:
First, make sure to measure all of your ingredients accurately. Especially the butter! Because our Honey Butter is whipped, you can't just use a measuring cup. Check out our handy dandy guide to baking with whipped butter.
The second is the bake itself. Don't over bake– a chewy cookie is better than a crunchy one.
Also, these cookies can be frozen for several months, so you can make them in advance and pull them out whenever you need them!
Enjoy!
White Chocolate Chip Cranberry Cookies
Course: Dessert, Snacks
Ingredients
1 cup brown sugar

½ cup sugar

2 eggs

2 tsp vanilla

2½ cups all purpose flour

1 tsp baking soda

1 tsp salt

¾ – 1 cup dried cranberries

1 cup white chocolate chips
Directions
Preheat oven to 350° F.
Cream together room temperature Cinnamon Honey Butter with brown sugar and white sugar. Add eggs and vanilla and beat until combined.
Add flour, baking soda, and salt, and mix.
Use a wooden spoon to stir in cranberries and white chocolate chips.
Use a cookie scoop to measure out dough. Roll each into a ball and place on a greased baking sheet. Bake at 350° for 8-10 minutes.
Allow to cool completely, and serve.
Makes 3 dozen.